The Port Town of Falmouth Jamaica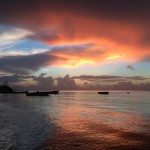 Although today we think of globalization as just a twentieth century phenomenon, the story of the eighteenth century port town of Falmouth, Jamaica, is also an example of its long-term effects. Founded in 1769, the port was built by elite English planters and enslaved West Africans to better service the global demand for sugar, molasses, and rum by increasing access to the growing number of plantations on Jamaica's north coast. This small coastal town also reveals the true historical depth of international exchange in products and ideas. Falmouth would soon come to boast the second largest population center on the island and the first piped water system in the Americas. Falmouth was a leading economic driver in the British Empire's most profitable colony until the introduction of steam power ships with deeper hulls rendered Falmouth's port too shallow and, therefore, unusable.
The global influences that created outposts such as Falmouth left their mark on the burgeoning port town as well as its surrounding landscape: planters purchased vast tracts of land and annihilated the standing timber in order to plant sugar cane; slaves creolized their traditions, customs, and even their language; and trade with the United States provided a profitable market for Jamaican sugar products and simultaneously supplied the island with flour, salt fish, timber, and horses (Henry 2010). As the townspeople began to grow and prosper, these influences began to manifest themselves on the landscape.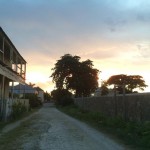 Rapid economic decline, however, saved Falmouth's landscape of historic buildings from demolition as redevelopment avoided the downtown area of the dwindling town. Beginning in 1994, the local organization that would become Falmouth Heritage Renewal (FHR) began using donations and government grants to renovate these privately-owned historic properties. FHR frequently works with the town's poor and elderly residents (those in the community who would be least financially able to restore their homes) to make their domiciles livable again. The efforts of this organization, which is directed and staffed by local Jamaicans, have successfully preserved large swaths of Georgian architecture as well as eighteenth, nineteenth, and twentieth century structures, including homes, businesses, parks, and churches. FHR's efforts were so successfully that Royal Caribbean Cruise Lines decided to open a port in "Historic Falmouth" due to "the remarkable density of Georgian buildings, which […] is reflective of the town's rich heritage" (Royal Caribbean 2011).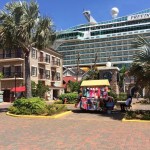 Increased demand for access by cruise lines has brought new problems. In 2008, Royal Caribbean made an agreement with the Port Authority of Jamaica to allow the dredging of Falmouth's protective coral reefs, the relocation of a century-old fishing village, the destruction of mangrove swamps, and the obliteration of the port's historic location in order to accommodate infrastructure to dock the largest cruise ships in the world. These changes have affected the strength of waves reaching the shore around Falmouth and caused erosion. Additionally, Royal Caribbean's multi-phase development project envisions other significant changes to the historic landscape. Townspeople have already seen Water Square, the cultural center of town, become a 'Pedestrian Only' area, while work is underway to reroute traffic around the town and to move the traditional 'Bend Down' market to outside of Falmouth's core. Furthermore, Royal Caribbean plans to expand the corporation's holdings inside the town, ensuring future infrastructure changes. Adding insult to injury, Royal Caribbean's port retail leases are too expensive for local and small businesses and effectively price those stakeholders out of the tourism industry. As locals are physically displaced, those who gave value to the built environment and have stewarded its preservation are cut out of the picture. In short, FHR and the community of Falmouth have done such a masterful job of protecting their heritage resources that they are now being driven off of them.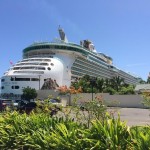 While Falmouth has always been a hub of globalization, the type of international influences that RoyalCaribbean is introducing are not the type to blend into the unique creole culture that has arisen in the place; instead, Royal Caribbean has begun foisting an American-based business model and social philosophy onto a small town in Jamaica. Adding to the frustration of the locals who are witnessing their culture being eroded, their shorelines depleted, and their architectural heritage subsumed into Royal Caribbean's $25 per person tours, is the realization that their government has sold them out: legal documents released in 2010 detailed that the Port Authority of Jamaica, a government agency located in Kingston, would receive $11 million (USD) annually for 10 years from Royal Caribbean in ground rent and fees. While Falmouth deals with outdated and overtaxed infrastructure, politicians in the capital continue to make money from afar. Understandably, the situation is fraught with tension on both sides as the future of Falmouth's local culture hangs in the balance.
Globalization is a constant force in international historical preservation. Places like Falmouth underscore the need for insightful, respectful, and community-supported redevelopment planning conducted with an eye to the historic landscape. While Royal Caribbean is likely to proceed with its plans for Falmouth unchallenged, preservationists need to recognize their potential as advocates not only for historic buildings but also as advocates for marginalized descendants communities.
Biography Camille Westmont is a doctoral student in anthropology and a master's student in historic preservation at the University of Maryland – College Park. She is a National Science Foundation Graduate Research Fellow, was recently selected as a National Trust for Historic Preservation/ National Council for Preservation Education Student Scholar, and is a 2016 alumna of the US/ICOMOS International Exchange Program where she interned with Falmouth Heritage Renewal in Falmouth, Jamaica.