Outdoor Recreation: Key Themes and Documents
Quick Links: Blog posts / Reports / Maps / Timeline (featuring highlights, see reports below for more information)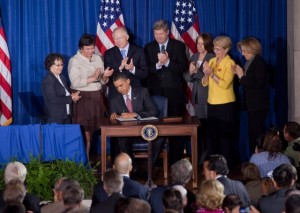 "I am hopeful that the conference can co-ordinate our national resources and opportunities in a way better to serve this purpose. It is by no means intended that there should be any suggestion of Federal domination in these activities. Necessarily they are largely local and individual, and to be helpful they must always be spontaneous. But this conference can be of great aid by making something of an inventory of our national resources and opportunities and determining how these may best be put to the most desirable use, and, further, by exchanging ideas, create new interests and open to view new fields."
– Calvin Coolidge, "Address to the National Conference on Outdoor Recreation in Washington, DC: "The Democracy of Sports," 1924 (full speech)
"The Federal Government, the Nation's largest land manager, has a responsibility to engage with these partners to help develop a conservation agenda worthy of the 21st Century. We must look to the private sector and nonprofit organizations, as well as towns, cities, and States, and the people who live and work in them, to identify the places that mean the most to Americans, and leverage the support of the Federal Government to help these community-driven efforts to succeed."
– Barack Obama, "Presidential Memorandum: America's Great Outdoors," 2010 (full statement)
Presidents Calvin Coolidge and Barack Obama are usually not mentioned in tandem. Serving close to a century apart, the two men have little in common politically. Yet, both supported the expansion of outdoor recreation opportunities, advocating for public-private partnerships as well as collaboration across multiple levels of government. In these efforts, Coolidge and Obama are far from alone, as the administrations of Franklin Roosevelt, Lyndon Johnson, Richard Nixon and Jimmy Carter, all undertook similar initiatives during their time in the White House.
Why has outdoor recreation so captivated 20th century American political leaders and what role has it played in shaping conservation and preservation policy more generally? Indeed, what exactly is the relationship between protecting landscapes valued for their natural, cultural or historic resources and the development of new or expanded opportunities for outdoor recreation at sites that could include swimming pools, playgrounds, sand boxes and golf courses?  What can shifting priorities in recreation policy reveal about broader changes in the country's social and economic life, especially in areas like urban development, civil rights and environmentalism?
As part of our examination of the significance of outdoor recreation, the Living Landscape Observer will be highlighting key reports, conferences, and publications. Our emphasis will be on 20th century federal policy, though state, local and nonprofits will also be included. These documents reflect the evolution in recreation policy as well as transformations in views on Indigenous sovereignty, gender roles, urban renewal, "wilderness," private property rights, industrial work and more. Over time, we will hope to add additional materials, especially those focused on the role played by private entities, which were among the earliest proponents of urban recreation and parks in cities like Chicago, New York and Boston.
If you have suggestions on more to add or commentary on existing documents, please contact us. 
Outdoor Recreation Reports – a 20th Century Chronology (with more to be added soon)

1905 – National Forest Service Organic Act passed by Congress and signed by President Theodore Roosevelt
1915 – New Jersey becomes first state to pass enabling legislation authorizing local governments to establish publicly-supported recreation programs.
1916 – National Park Service Organic Act passed by Congress and signed by President Woodrow Wilson
1924 – National Conference on Outdoor Recreation meets in Washington, D.C.
1925 – National Recreation Association created
1926 – Congress Passes the Recreation and Public Purposes Act
1928 – American Forestry Association and the National Parks Association publish report "Recreation Resources of Federal Lands"
1936 – Legislation authorizing the Blue Ridge Parkway passes Congress and is signed by President Franklin Roosevelt
1934 – National Park Service Report on "Recreational Use of Land in the United States"
1935 – The Works Progress Administration (WPA), the Roosevelt Administration's most ambitious Depression-era employment program, established. Recreation-oriented projects, including the construction of hundreds of parks, playgrounds, stadiums, swimming pools, trails and more proved to be among the initiative's most lasting legacies.
1936 – Lake Mead National Recreation Area Designated
1937 – Cape Hatteras Seashore Recreational Area Designated
1941 – National Park Service report "A Study of the Park and Recreation Problem of the United States" released
1946 – Federal Inter-agency Committee on Recreation established
1954 – Passage of Federal Housing Act with provisions for technical assistance and funds to support urban planning, land acquisition, park development and urban open spaces.
1958 – Outdoor Recreation Review Act passes Congress
1961 – Designation of Cape Cod National Seashore, first shoreline to join NPS system since Cape Hatteras in 1937
1961 – Federal Housing Act of 1961 includes $50 million for urban open space acquisition.
1962 – Following 4 years of research, Outdoor Recreation Resources Review Commission (ORRRC) issues influential report Outdoor Recreation for America
1962– Bureau of Outdoor Recreation Established
1964 – Land and Water Conservation Fund (LWCF) established; read more about the connections between LWCF and the ORRRC.
1972 – Golden Gate National Recreation Area in San Francisco and Gateway National Recreation Area in New York City and nearby New Jersey designated, inaugurating a new era in urban park development
1976 – Federal Land Management and Policy Act passed, to read the bill (as amended) click here
1978 – National Urban Recreation Study Released
1984 – Pennsylvania Heritage Parks: A Concept with Applications Report Released