Heritage Areas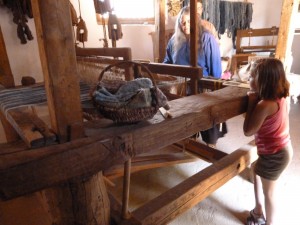 One of the most well known landscape scale models, heritage areas are geographic regions that are a distinctive combination of natural and cultural heritage. The advocates for heritage areas come from the fields of conservation, historic preservation and community development and seek to ensure that the past remains part of the living fabric of the community.  Their goal is to nurture conservation ethic in a landscape to use heritage is as an for cultural, educational, and economic development.  Although usually defined by a boundary, heritage areas do not own or manage land and have little or no regulatory requirements.  While many have been recognized by state or National Park Service heritage area designation, most of the areas are managed by locally-driven nonprofits. The work of heritage areas is carried by management plans and multiple partnerships that carryout conservation, recreation, education, and tourism projects.
Examples
Bear River Heritage Area – The Bear River Heritage Area consists of seven counties: Bear Lake, Caribou, Franklin, and Oneida in Idaho; and Box Elder, Cache, and Rich in Utah. It is a large region of rivers, mountains and valleys where native tribes, mountain men, pioneers, farmers and ranchers established an enduring heritage.  The region also reflects the nation's  transportation story at the Golden Spike National Historic Site and through the recognition of many pioneer trails. The Bear River Council, a local consortium of organizations in government, business, education, tourism, and recreation manages the area for both promotion and stewardship of its cultural and natural resources.
National Heritage Areas – These are places designated by Congress where the natural, cultural, historic, and scenic resources are considered uniquely representative of the American experience. Starting with the first designation in 1984, and continuing through the most recent designations in 2009, Congress has created 49 National Heritage Areas (NHA). More than 500 National Historic Landmarks and over 12,800 National Register of Historic Places listings anchor and give rich definition to these areas. As of 2011, almost 50 million people across 19 states live in a National Heritage Area. While the National Park Service provides funding and technical assistance, NHAs are managed locally, usually by not-for-profit organizations identified in the authorizing legislation as the management entity. Through partnerships, which often cross-political boundaries, the NHAs are able to coordinate the efforts of large numbers of organizations. These broad collaborative relationships have demonstrated a capacity to leverage substantial funding and engage the public in resource conservation.
Maryland State Heritage Areas – Maryland's Heritage Program has recognized 12 State Certified Heritage Areas where public and private partners have made commitments to preserving historical, cultural and natural resources for sustainable economic development through heritage tourism.  At the local level, the heritage areas help focus community attention on under-appreciated aspects of history, living culture, and distinctive natural areas, thus fostering a stronger sense of pride in the places where Marylanders live and work.  The Maryland Heritage Areas Authority (MHAA) provides targeted State financial and technical assistance within certified areas.