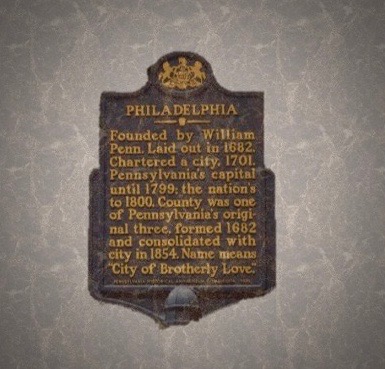 Over 2,500 Pennsylvania Historical Markers, both the blue and gold version and earlier brass plaques mounted on boulders, dot the roadsides of the Commonwealth. Starting in 2019, the Pennsylvania Historical and Museum Commission (PHMC), which manages the program, began a system-wide review of the text of those markers, some dating back to the era of the preceding agency nearly a century ago. The outcome of this review identified a number of markers with outdated and, in a few cases, unacceptable language. To date, three historical markers and two plaques have been removed, while others are scheduled for replacement with alternative language.
Even these very modest efforts were not without controversy. In September 2021, a legislative member of the PHMC's governing board penned an editorial stating that the marker review was " another example of unelected bureaucrat far-left ideologues within the [Governor] Wolf administration using their positions to implement a belief system they cannot enact through legislative means."
This language sounds all too familiar in the Unites States' polarized environment. However, a recent blogpost Pennsylvania's Historical Marker Program: A Holistic Review of Native American and African American Themed Markers by archeologist and preservationist Ira Beckerman provides more context. He takes both a step back and a deeper look at how the PHMC markers portray the histories of Indigenous peoples and African Americans. He does a great job of providing the historical background behind the PHMC's marker program. He also brings new (for some historians) tools to review the content of the existing markers, identifying biases and omissions. In the post, Beckerman notes, about the recent PHMC review, that – An incremental approach may be practical, politically acceptable, and yield some results.  If the Historical Marker Program is to retain legitimacy, and to serve its mission to commemorate and educate on the history of Pennsylvania, then a more intense approach is needed.  It will need to be comprehensive, require substantial resources, and may become as controversial as other recent attempts at restorative justice.  To do less, though, leaves us with a history continuing to perpetuate an incomplete and distorted narrative of the Commonwealth.
For public historians, heritage administrators, elected officials, and so many more, his post is definitely worth a read!