Session 8 with Gwenaëlle Bourdin, Leticia Leitão, Carlo Ossola, and Nupur ProthiKhanna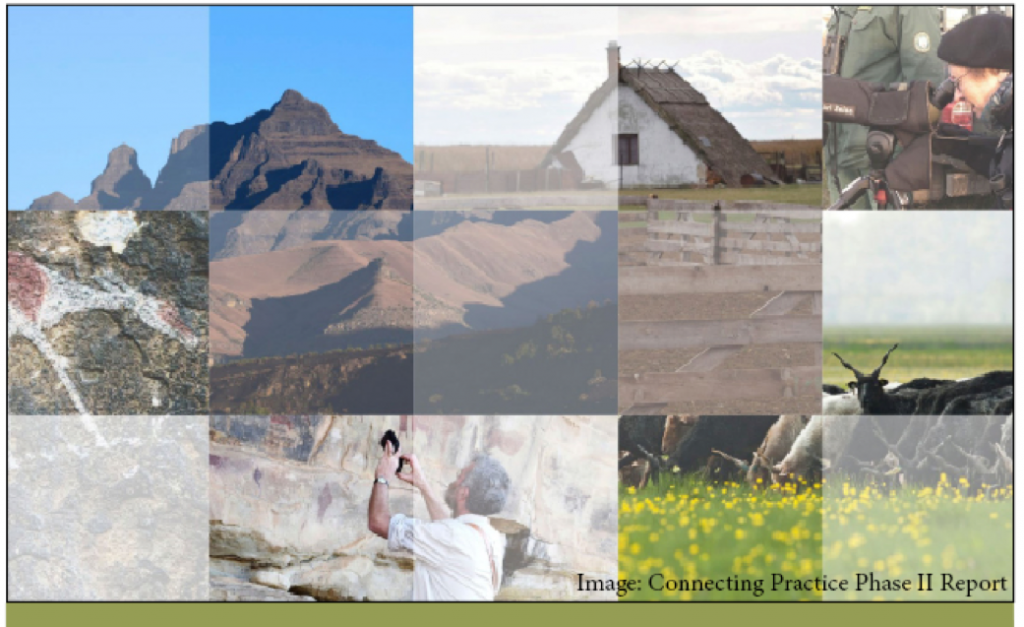 In our new series of naturecultures sessions that runs from May to September 2020, presentations are pre-circulated, leaving most of the dialogue session open for active discussion. In this particular session we had four separate presentations circulated under the theme Connecting Practice. The abstract (overview of Connecting Practice), and link to these 10-16minute presentations is included on the next page. This summary is drawn up from comments that came up in the dialogue session, and elaborated on in the email discussion afterwards. These comments are general, abstract expressions, and personal thoughts that are not necessarily associated with the view of ICOMOS, IUCN or any other organisation.
The objectives of this particular dialogue session were to:
Share information on the Connecting Practice project – its origins, aims and approach, and current status
Share and discuss lessons learned to date from Connecting Practice project and individual World Heritage properties rich in naturecultures values
Discuss the implications of lessons learned for conservation practice today – and some of the important challenges remaining for naturecultures integration
Discuss how to best share lessons learned more broadly and how best to encourage continued dialogue on naturecultures integration
Abstract
Since 2013, ICOMOS and IUCN have been conducting 'Connecting Practice' – a joint project aimed at developing new methods and conservation strategies that recognize and sustain the interconnected character of the natural, cultural, and social values of World Heritage sites. A short-term goal of the project is to develop practical strategies for a more integrated conservation approach and to improve coordination and deepen collaboration between cultural and natural sectors to achieve better conservation outcomes. In the longer term, the more ambitious goal is to gain a deeper understanding of interconnections of culture and nature and influence shifts in the conceptual and practical approaches for values assessment, governance and management within the implementation of the World Heritage Convention and beyond. This approach is intended to "bridge the divide" that is often observed between natural and cultural heritage — overcoming the many unintended adverse outcomes that can result. This collaborative project is designed to learn from current practice by having interdisciplinary project teams work directly with staff and partners from World Heritage sites that illustrate the inter-linkage of cultural and natural heritage. In this dialogue session, four professionals will share their experience and lessons they learned from their involvement in the Connecting Practice project. They will also reflect on shifts in their own perspective and their observations on recent changes in conservation practice. We invite your participation in the dialogue on recent innovations in practice and reflections on lessons from your own experience with conservation of places rich in naturecultures values. We also invite your suggestions on ways in which the Connecting Practice project and lessons learnt might be shared with other members of the ISCCL and beyond.
Link to Presentations by the four panellists, the reading material, and recording of the dialogue session: HERE
Attendees
| | | | |
| --- | --- | --- | --- |
| 1 | Alicia Cahn (AC) | 21 | Maureen Thibault (MT) |
| 2 | Archer St Clair Harvey (AH) | 22 | Mary Laheen (ML) |
| 3 | Ana Bajcura (AB) | 23 | Maya Ishizawa (MI) |
| 4 | Anna Gaynutdinova (AG) | 24 | Meetali Gupta (MG) |
| 5 | Aurelie Fernandez (AF) | 25 | Monalisa Maharjan (MM) |
| 6 | Bansal Suramya (BS) | 26 | Monica Luengo (ML) |
| 7 | Brent Mitchell (BM) | 27 | Natali Bolomey (NB) |
| 8 | Brenda Barrett (BB) | 28 | Nancy Pollock Elwand (NPE) |
| 9 | Carlo Ossola (CO) Panelist | 29 | Nora Mitchell (NM) Session Co-Organiser |
| 10 | Cira Szklowin (CS) | 30 | Nupur Prothi (NP) Panelist |
| 11 | Cari Goetchus (CG) | 31 | Patricia ODonnell (POD) |
| 12 | Darwina Neal (DN) | 32 | Paul Jurcys (PJ) |
| 13 | Gwenaelle Bourdin (GB) Panelist | 33 | Priyanka Singh (PS) |
| 14 | Helen Wilson (HW) | 34 | Rohit Jigyasu (RJ) |
| 15 | Jessica Brown (JB) | 35 | Sanaa Niar (SN) |
| 16 | Je-Hun Ryu (JR) | 36 | Steve Brown (SB) Moderator; Session Co-Organiser |
| 17 | Kate Lim (KL) | 37 | Supitcha Sutthanonku (SS) |
| 18 | Leticia Leitao (LL) Panelist | 38 | Tim Badman (TB) Respondent |
| 19 | Kristal Buckley (KB) Respondent | 39 | Tomeu Deya (TD) |
| 20 | Marike Franklin (MF) Dialogues Convenor | 40 | |
SUMMARY
| | |
| --- | --- |
| General comments on the session and Connecting Practice SB: This dialogue provided the opportunity to reflect on what has been learned from the Connecting Practice project; and to consider what has begun to change and where challenges remain and more effort is needed. CS: I think that this project was admirably conceived, in the sense that it provides the basic conditions for a built-in process of interdisciplinary, multi-actor, system-based discussions that connect practices. This evolving process will eventually lead to a conceptual and operational integration of naturecultures and perhaps to institutional convergence. The on-going results from the project, and future initiatives/actions, has the capacity to evolve, grow in complexity and embody an interactive framework. Matching the conceptual, evaluation and conservation/management aspects involved in the naturecultures value integration. The change has begun. KB: Some wonderful points were made – and the materials that were uploaded in advance were really thoughtful. It's a complete pleasure to join such well-organised and thoughtful discussions. The cause continues – but for me, it has been incredibly encouraging and inspiring to see this become a topic of more 'mainstream' discussion in ICOMOS | SB, CS, KB |
| Education NPE: We divide culture and nature institutionally, in policy, governance, across disciplines, field, etc. It seems if we are to improve the divide, we need to change our approach in terms of education — I would be interested to know the panelists' ideas on how we may change our educational approaches to accommodate a more integrated view of nature and culture. RJ: Terminology from nature and culture sectors…Have you come across terms that are understood/defined differently in the two sectors…How did you reconcile these differences?TB: Yes agree with this Nancy Pollock Elwand's though we need to challenge the "we" here since that term I think comes loaded with assumptions and part of the reality, at least in terms of international practice, is that many cultures, and most communities, don't separate nature and culture (or even have words for the terms, but have played too little role in the discourse, and defining standards, methods etc. One place to see an IUCN take on this is that we have an resolution from 2008 https://portals.iucn.org/library/node/44249… Recognition of the diversity of concepts and values of nature.It is also striking to me that indigenous peoples, and in particular indigenous youth, have been speaking out in the Convention on Biological Diversity on the importance of culturally appropriate education, considering how the transmission of traditional knowledge is inseparable from education in local and traditional languages. We need to see conservation and education as inseparable.Regarding the broader point then I think changes in international courses could include a particular focus on integration in course syllabi for some of our key disciplines, and this would include both the inclusion of more anthropology in ecology courses, and more ecology in courses concerned with landscapes. And I think all people who work internationally should be able to demonstrate some cross-cultural understanding of how different languages and cultures frame the people/nature/culture relationship … to push back on a discussion that is about diversity, but only happens in few languages, and especially in English. Finding courses that are leading by example in this space and promoting them would be a practical thing to do, and something that ICOMOS and IUCN could team up on. There are relations to build with UNESCO here too, in their education sector.MG: I personally don't agree with targeting the 'marginalised society' (reference to NP's comment in session). The exercise might work even with school kids in general. One of the Indian design studios has been doing it.NP: Thanks MG for your observation. Working with the marginalised communities was a mandate of the project. We just experimented and decided to work with children and youth instead of adults.CS: It seems to me that one of the worst problems of this institutional divide -resulting from an anachronic sectorial organizational and a correlating culture dealing with single aspects of the naturecultures reality-, is the generalized disregard of interactions and transversal links. I think that between this failing institutional state and educational approaches there is room to experiment/create new arrangement based on projects –like this ICOMOS/IUCN one, a replicable model for other complex domains- involving different professional disciplines around a complex task, building in time a common vocabulary (and hopefully an articulated set of approaches), by working together and in interactions with institutional and community actors.LL: Regarding NP's question on how to change educational approaches to accommodate for a more integrated view of nature and culture, my first reaction is that this is a really large and complex question and we should be very careful of coming up with "simplistic solutions". As argued by Yuval Noah Harari, in Homo Deus: A Brief History of Tomorrow, "For 300 years the world has been dominated by humanism, which sanctifies the life, happiness and power of Homo sapiens". In my view, we are talking about ways of thinking and organizing societies that have evolved over centuries and this will be very difficult to change. Tim (TB) rightly mentions that certain cultures do not separate humans from nature. However, in my opinion the prevalent "world view" is one where humans don't think of themselves as one species among many but as a superior species, which controls nature. Whether we like it or not, more and more we live in an interconnected world, where different cultural groups are blending into a single global civilization. To grasp the disconnect between this way of thinking from that of a cultural group that perceives humans as part of nature, I invite you to have a look at Alessandro Pignocchi's book called "Petit traité d'ecologie sauvage". I have it in French and I am not sure if it exists in other languages. On a more positive note, and a concrete example on changing the educational approach, I suggest you read the article from the Guardian's columnist George Monbiot's on "Coronavirus show us it's time to rethink everything. Let's start with education" https://www.theguardian.com/commentisfree/2020/may/12/coronavirus-education-pandemic-natural-world-ecology. | NPE, RJ, TB, CS, LL, MG, NP |
| Natural and cultural values that are in continues flux RJ: How do we understand natural and cultural values in continuous flux…always evolving and changing? We may understand them, how they existed in the past…but the interrelationships have changed in the present context….and they are going to further change in the future. Reconciling this change/evolution is a challenge especially in the light of exponential climate change.TB: Yes, fully agree. We need to understand exactly this point. It is axiomatic for nature conservation approaches since ecosystems are always changing. But we need to be better at really understanding past change, time depth in landscapes and including the timescales, cycles and the socio-economic interactions and legacies. Contested histories, past injustice, long term impacts of colonialism, national and community narratives, and migration all intersect in this space in ways that can be fundamental in moving to just and inclusive conservation practice. There are also tools and methods that we can share and learn from here … the impact assessment is all about this, climate is a hugely important focus with both the combination of new science and local knowledge, plus methods like "Limits of Acceptable Change".CS: Auto organized systems permanently change to adapt to, and evolve with their contexts, while at the same time, maintaining the basic set of interrelationships related to its core identity. I agree that the challenge for us is how to understand the core interdependent values, and dynamic thresholds to configure a naturecultures system adaptive capacity for conservation.LL: I agree with RJ's views as well as with TB's point that we need to be better at understanding past change. But I also think that we first need to acknowledge past change, that is, that heritage (natural or cultural) is the result of cumulative layers of change and evolution over time and that it is normal that natural things will continue to change. That said, it is critical to understand the speed and the scale of that change and when the effects of that change will be felt. This is particularly important in relation to climate change because the effects of actions taken decades ago will only be felt fully decades from now. In systems thinking these are called delays. There are both perceptions delays (identifying and recognizing the effects) and response delays (actually act on it and starting to see the results of the responses) … while in the meantime the system might have changed again and the responses might be insufficient or inadequate! | RJ, TB, CS, LL |
| Systems ThinkingPOD: Carlos mentioned systems drawn from ecological work. Leticia noted in her video about systems as arising all at once, not sequentially and recognizing these as a "eureka" in connecting practices. Any comments? TB: I think Leticia's paper brilliantly makes this point, and the intersecting points regarding interdisciplinary approaches, and RJ's above point is also connected … plus also the point we got to in the seminar that we need to bring a levelling of specialists and communities (viz science and traditional knowledge, viz empowering locally led solutions ahead of top-down thinking, viz empowering diversity in conservation… The challenge here is to find ways of working that can recognise systems thinking, without getting paralysed by rational-comprehensives, or by finding that we talk the talk about systems, but leave out the human and social dimensions because of lack of inclusion, or because we have gaps in data or approaches that favour quantitative science. I think the dialogue pointed to several ways that Connecting Practice is finding solutions in practice to this question.TD: Stakeholders should be on the decision-making site board and not just in participative groups as consultants.CS: A system can arise/emerge as a new one when it is pushed over the limits of its existential context, or when it reaches a basic auto organized state. Also, the meaning of an image or the perception of a visual landscape is grasped in a sudden and interconnected way, as opposed to the sequential eliciting of the meaning of a text. And Patricia's interpretation ("eureka") of Leticia expression ("arising all at once") is also an attribute of a complex, multilevel, nonlinear system.AB: When the systems as arising all at once, the connection is to connect with our inside, with all the senses and feelings at the same time: touch, smell, sights, sounds, temperature. Because "nature" is so complex and amazing and will always surprise us. When it succeeds all at the same time, we have a real connection with all our world. After this Session, and reading/watching the presentations again, it allowed me some thoughts:We work In nature and not with nature. Because In means inside, wrapped in it, that "nature" is bigger than us … for us to be inside nature.If we work "with" Nature, it is like we work with another person … at the same level. We can share with them at the same level, in the sense of taking it, being on par. The rules are those of nature, not of what we want. I think when the authorities can understand and recognise this difference, this world begin to be better.BS: Self-reflexivity and ground-truthing will definitely make a huge difference in realizing and understanding inherent and localised wisdom and knowledge.TB: Totally agree with this point, change needs both a large reflection, but roots in diverse local realities. | POD, TB, CS, AB, BS |
| Lessons learnt and Phase 4 SB: I understand that there is funding available for Connecting Practice Stage 4. If so, it would be great to know what the objectives of Stage 4 will be. Gwenaelle and Leticia – do you know what these are, please?I also have a broader question for the group, especially those not familiar with the Connecting Practice project. What do you think are the best ways to share the lessons learned from Connecting Practice? At present this is done through publishing reports on the ICOMOS and IUCN websites; through presentations at conferences; and through publications. What other ways could be used to share with broader audiences the lessons learned?MF: Do you think looking at an integrated management plan is a good starting point in sharing an outcome of the connecting practice project? Seeing a tangible product which encapsulates the lessons learnt on a particular site would certainly be interesting to look at. From the Connecting Practice chapter as part of the reading (Leiticia et al; 2019 p 6) on the Drakensberg Case Study in South Africa:Being part of the Connecting Practice offered park management a unique opportunity to realise a need to develop one all-encompassing and 'genuine' Integrated Management Plan for the Park which will allocate equal significance and equal status to both the natural and cultural values of the Park.Has this Integrated Management Plan been done already? If so, perhaps that's a good one to share with the group? LL: Regarding the question on the integrated management plan for Maloti-Drakensberg, I would expect the plan to have been completed by now and even started to be implemented, since I saw a draft of it almost two years ago. That said, I would be careful on promoting it as an example (as I am each time that people ask me for good examples of management plans!). To me, more than the content of the management plan, what was important was the will to come up with an "encompassing" plan because it was a first step (and major step) to bridge existing institutional divides. It meant that two different institutions agreed to work together in a planned organized way with shared objectives. | SB, MF, LL |
Circulated pre-reading:
Recommended reading:
Buckley, Kristal, Gwenaëlle Bourdin, Maureen Thibault, Leanna Wigboldus, Luisa DeMarco, and Tim Badman. "Connecting Practice: operationalizing concepts and strategies for integrating nature and cultural heritage in the World Heritage Convention". In N. Mitchell, et al. (Eds.), Proceedings of the US/ICOMOS International Symposium Forward Together: A Culture-NatureJourney Toward More Effective Conservation in a Changing World, 13-14November 2018, The Presidio, San Francisco, California, 2019. https://usicomos.org/symposium/symposium-2018-proceedings/ (Attached as a pdf)
Leitão, Leticia, LeannaWigboldus, GwenaëlleBourdin, Tim Badman, Zsuzsa Tolnay, and Oscar Mthimkhulu. "ConnectingPractice: Defining new methods and strategies to further integrate natural and cultural heritage under the World Heritage Convention." In Bas Verschuuren and Steve Brown (Eds.)Cultural and Spiritual Significance of Nature in Protected Areas,Governance, Management and Policy, 151-163.London and New York:Routledge, 2019. (Attached as a pdf)
Further reading:
For an overview of the three phases of Connecting Practice project, see the attached pdf and presentation on the Connecting Practice project, given by Maureen Thibault of the ICOMOSInternational Secretariat at the CultureNature Journey Webinar organized by the ICOMOS EPWG (Emerging Professionals Working Group) on 16 May 2020. Please refer to minutes 18:45-51:17 for Maureen's presentation.
Leitão,Leticia, Gwenaëlle Bourdin, Tim Badman, and Leanna Wigboldus. Connecting Practice Phase II: Final Report. ICOMOS/IUCN, 2017. (available in English, French and Chinese), see https://openarchive.icomos.org/1841/
This meeting: Connecting Practice
Nupur Prothi Khanna, Leticia Leitao, Carlo Ossola, and Gwaenelle Bourdin
29 June 2020 8PM GMT
The next meeting: Integrative Approaches to Nature and Culture in Rural Landscapes
Mary Laheen, Brenda Barrett, and Jessica Brown
27 July 2020 1 PM GMT