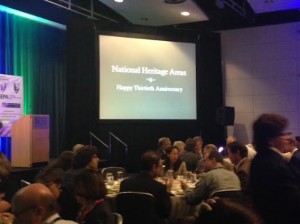 The National Workshop on Large Landscape Conservation October 23-24 was a sold out success. Almost 600 leaders and practitioners gathered to develop strategies for addressing the nation's significant land and water challenges on a landscape scale. The conference also took the opportunity to celebrate the anniversaries of two of the more ground-breaking large landscape projects – National Heritage Areas and the Yellowstone to Yukon Conservation Initiative.
These landmark efforts blazed the trail – demonstrating that large landscape conservation is possible with collaboration, hard work and big dreams.
Steve Guertin, Deputy Director for Policy at the US Fish and Wildlife Service, recognized the two anniversary milestones – 30 years the for National Heritage Area program and 20 for the Yellowstone to Yukon Conservation Initiative. He offered both his "congratulations and sincere thanks to those leaders who have shown us that it is possible to make the visions that inspire our work a reality on the ground."
The national workshop also featured keynotes from high-powered conservation leaders such as Secretary of the Interior Sally Jewell, Mike Boots of the White House Council on Environmental Quality, and Collin O'Mara, President and CEO of the National Wildlife Federation. Presenters shared research and insights that show how large landscape efforts are an integral part of our response to challenges such as wildlife habitat degradation, threats to water quality and quantity, losses of working farms and forests, and limited public access to urban, rural, and wild open spaces.
"Large landscape conservation initiatives are actually working to provide solutions for some of our nation's most complex environmental challenges, while at the same time enhancing economic prosperity and energy security," said James Levitt, Lincoln Institute of Land Policy fellow and NWLLC co-chair.