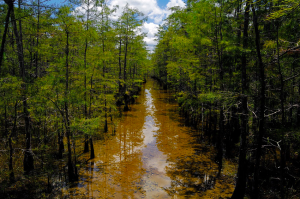 In the decades after World War II, the Federal government significantly altered its approach to land acquisition for parks, forests and other protected areas. Before this period, Congress rarely appropriated funds for the purchase of private property. Instead, protected areas were either carved out the public domain (which has much of its origins in Indigenous dispossession) or created through donation. Condemnation also occurred, though at times states, with federal urging, took the lead as in 1920s/1930s era National Parks in Appalachia.
The push for open space and recreation opportunities near urban areas as well as the passage of landmark legislation like the Land and Water Conservation Fund Act (1964) meant there was both an increased demand for and funds available to support an unprecedented level of land acquisition. Yet, the results of this new approach proved, in many cases, to be far from ideal. Agencies frequently acquired lands in a haphazard fashion and less-than-fee options garnered little interest or enthusiasm. Residents and landowners whose property fell within protected area boundaries became confused and angry along the way, feeling betrayed by a process that was far from transparent.
In 1979, the Government Accountability Office looked at the issue of federal land acquisition in the 1960s and 1970s in a report entitled The Federal drive to acquire private lands should be reassessed  (available via the Hathi Trust website, a free online archive worth searching if you haven't already). This document, which includes analysis of sites like Big Cypress National Preserve and Lower St. Croix National Scenic River, provides an in-depth commentary and analysis of acquisition by land management agencies as well as agency responses and should be interesting reading for those involved – past, present and future – in adding lands to the federal portfolio.