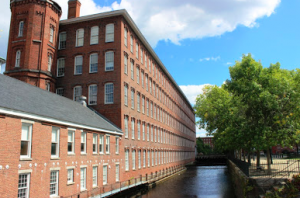 The Living Landscape Observer has run numerous articles on the so-called nature / culture divide in the field of conservation, advocating for an approach that – at long last – acknowledges the artificiality of this type of split. Yet, less has been written about the tendency for many protected areas to also starkly differentiate the past (a time period deemed "significant") from the present and the future. The subject has gathered interest from scholars in the fields of historic preservation and anthropology, however, who have sought to challenge and critique the idea that significance can be so temporally bound.
My ongoing research into the 1970s as a turning point in the history of American conservation recently had me thinking about how the culture / history divide, as I will call it here, played an important role in shaping the trajectory of a number of National Park units designated during the latter years of this pivotal decade. For example, at varying points during the run up to their eventual creation in 1978, the soon to be National Historical Parks of Lowell (MA), Kaloko-Honokōhau (HI), and Jean Lafitte (LA), all had the term "cultural" in their title. Residents of the affected communities were usually strong advocates of a cultural, rather than solely historical, approach, as they viewed the places as still living and evolving, not static and museum-esque.
Ultimately though, decision-makers (though staff had different views) in the NPS and Interior did not prove receptive to this approach and all three sites, along with others that had also sought to be among the first cultural park units, became historical parks instead. Over time, this decision lead to consternation, anger, and recriminations, especially in Hawai'i, as some early park advocates, including many Native Hawaiians, felt betrayed by the agency and its approach to management.
Despite the importance of the decision to create historical rather than cultural parks, little seems to have been written on the issue. Do readers have firsthand experience with these decisions or opinions on the culture / history divide I describe above? Please let us know. One important work that looks at the challenges of temporally bound interpretation in the context of one of the 1970s cultural turned historical parks is The Lowell Experiment: Public History in a Post Industrial City by Cathy Stanton. Are there other studies of this issue that readers could share?
Also, it is important to note that innovative action on conservation and preservation policy also occurred at the state and local levels during the 1970s and 1980s. Paul Bray, a frequent contributor to the Living Landscape Observer, has written articles on the history of the New York State Urban Cultural Park System (later renamed heritage areas). In New York, program creators (including Bray) emphasized the importance of linking past to present, as a means to foster community pride and connection. Similar ideas animated heritage park initiatives in Pennsylvania and Massachusetts as well as at the federal level.