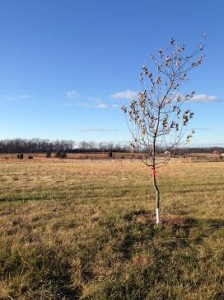 On November 19, the 150th anniversary of President Lincoln's Gettysburg Address, the Journey Through Hallowed Ground Partnership in collaboration with the Gettysburg National Military Park dedicated 248 trees (167 newly planted trees and 81 existing trees) on Bliss Farm as part of the Living Legacy Project.  This effort is helping to restore the orchard that existed on the property at the time of the Battle of Gettysburg.  The ceremony included remarks by National Park Service Director Jonathan B. Jarvis, Gettysburg National Military Park Superintendent Bob Kirby, Acting Secretary of Pennsylvania's Department of Conservation and Natural Resources Ellen Ferretti, Ancestry.com Senior Director Brock Bierman, and Journey Through Hallowed Ground Partnership President Cate Magennis Wyatt.
In commemoration of the Sesquicentennial of the American Civil War, the Living Legacy Project is a simple yet eloquent plan to plant one tree for each of the 620,000 soldiers who died, as a living memorial for their individual and combined sacrifices. Trees planted, as part of the Living Legacy Project will stretch along the Journey Through Hallowed Ground National Scenic Byway, a 180-mile swath of land that runs from Gettysburg, PA to Thomas Jefferson's Monticello in Charlottesville, VA.
Upon completion, the Living Legacy Project will be the first 180-mile landscaped allée in the world and the only allée dedicated to honoring the most defining moment in American history.  The project will create a unified color palette that reminds visitors that they are, indeed, on hallowed ground.  A signature palette of seasonal trees and plantings, including redbuds, red oaks, red maple, and red cedar have been selected to represent the courage and valor of the individuals being honored with this project.  The native selection is appropriate to the diverse landscapes along this historic corridor, and remains sensitive to the local ecology, scenic views, and development patterns.
The Journey Through Hallowed Ground Partnership is actively engaged in raising the necessary funds to complete this $65 million initiative.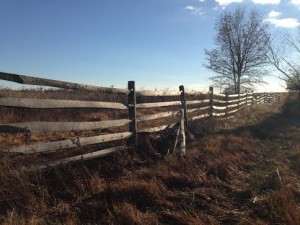 Donors may select a soldier to honor, as the trees will be geo-tagged to allow Smart Phone users to learn the story of the soldier, providing a strong educational component to engage interest in the region's historical heritage and literally bring the tree to life.  For more information on the Living Legacy Project, visit www.hallowedground.org.