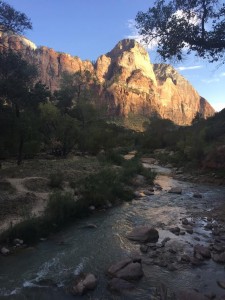 The Bureau of Land Management (BLM) is responsible for administering 247 million acres or over an eighth of the land mass of the United States. With a multiple use mission, BLM oversees leases for grazing, mining, oil and gas drilling as well as recreational uses and is charged to do so to benefit the economy, environment and enjoyment of people today and in future generations. Needless to say this basket of competing interests makes for a challenging job. And nowhere is the work of BLM more difficult than in balancing interest of the public when  leasing land  adjacent to our National Parks.
Conflicts between BLM practices and the need to protect National Park resources has resulted in the agency adopting a landscape scale approach to reviewing proposed leasing. This is the background as reported in a recent letter (Aug 29, 2017) http://protectnps.org/over-350-coalition-members-sign-letter-to-secretary-zinke-against-oil-and-gas-developm issued by the Coalition to Protect America's National Parks,
"In 2008, the BLM sold several oil and gas leases next to Arches and Canyonlands National Parks in Utah. It was a rushed exercise, and NPS was not consulted until late in the process. A federal court halted the leases, because of the grave threat to the national parks, and an internal review conducted by a veteran BLM/NPS leadership team recommended a series of changes to BLM's leasing program designed to avoid similar conflicts in the future. Those recommendations were largely adopted, and are achieving their goals. Master Leasing Plans (MLP's) are reducing conflicts across the West, including around Arches and Canyonlands, and a new leasing process has created a vehicle for identifying and resolving NPS concerns for leases proposed near national parks. MLP's prevent irreparable damage to park resources and avoid costly litigation, while allowing appropriate levels of oil and gas development to occur"
However, today the Coalition and other conservation minded organizations are concerned that the use of the MLP approach may be falling out of favor in the new administration. The Coalition noted that the Bureau of Land Management (BLM) has proposed oil and gas leases near NPS units including Zion National Park, Dinosaur National Monument, Capitol Reef National Park, Chaco Culture National Historical Park, Hovenweep National Monument, and Fort Laramie National Historic Site. In addition, BLM has decided not to go forward with proposed "master leasing plans" (MLPs) in Utah.
These actions place National Park resources such as dark skies, clean air, scenic vistas and peaceful enjoyment of cultural and natural wonders at risk. Or as the Coalition eloquently said: Our national parks are not meant to be islands in seas of development.
While energy development may be a necessary activity on public land, it needs to be done in a way a way that balances competing interests. The MLP offered such an approach  for our National Parks and should be continued.
 Want to learn more?
Listen to a recent telepresser    held by the Coalition to urge Department of Interior Secretary Zinke not to lease lands next to any national monuments or national parks, and instead ensure that the lands around our national parks and monuments are protected and developed responsibly.
This comes at a pressing time, as this  September  (2017)all agencies will be providing a finalized report to the White House that identifies what existing rules and policies, which could include important protections for our land and water, should be eliminated in order to further President Trump's Energy Independence Executive Order. These decisions will directly impact the future of our national parks, national monuments, and their surrounding communities.