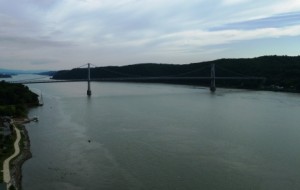 A few weeks ago, I drove from New York City to Montreal, Canada. Over the course of four days, I explored the Hudson River Valley, eastern Adirondacks and Lake Champlain region, all among the Northeast's most iconic large landscapes. During the trip, I encountered a fair amount of signage, identifying or marking the landscape in different ways. What follows are some general thoughts on what I found – I am also interested in learning what others think, have done or have learned about using signage to create awareness of place.
Highway signs:What does it mean to pass a sign, while going 70 miles per hour that reads, "Entering [insert name here] landscape/heritage area/trail/ etc? For most visitors, I would hazard to say little to nothing if (important if) that is all there is! I only have anecdotal data to support this claim, but multiple friends and relatives have told me they passed heritage area road signs for years (in the case of my own father for over 10 years) and never knew what to make of them until I began working for the program and explained its significance. One recommendation I would offer is that these signs link-up to an actual place a visitor can exit and get information, even if it is an unmanned kiosk at a rest stop. So, instead of just "Entering [insert name here] landscape/heritage area/trail/ etc," the sign should read Entering [insert name here] landscape/heritage area/trail/ etc – Stop at Exit 1 for information." Obviously, it is impossible to go back and change all the existing signs, but, in the future, it might be worthwhile to consider this approach.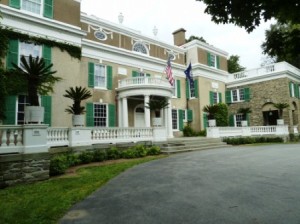 The Importance of Hubs:One of the stops on my drive was Hyde Park, the Home of Franklin Roosevelt National Historic Site. This is one of the most highly touristed sites in the Hudson River Valley and draws regional, national and international visitors. As such, it can (and hopefully does) serve as a springboard for visitation to other interesting, but lesser known, locations. A great use of a sign I saw at Hyde Park was a map that showed the boundaries of the Hudson River Valley National Heritage Area and identified multiple points of interest. Many visitors stopped and looked at the map (always draw people in) and discussed possible visits. In considering how best to create informational signage like this for large landscapes, prioritizing quality signage at a highly visited hub like Hyde Park seems important because many of those stopping may only be familiar with 1 or 2 such sites. Another idea might be to identify sites by driving distance. While it seems less interesting than thematic grouping, it might make more sense for trip planning purposes.
Tourist vs. Resident – One of my favorite stops was a state park near the highway in New York where we stopped to stretch our legs. The park had free parking nearby and most of the visitors appeared to be local residents out for an evening stroll. There was a large amount of conspicuous signage, but no one seemed to be reading it. The signage discussed both natural and cultural history. I wondered, when a park serves residents of a large landscape, rather than tourists – what kind of information is best? Do residents read signs? Are they (it seems obvious) in a different mindset than a tourist who has set out to visit a specific place to learn its story. What are the best ways to generate a dialogue/ interpret a landscape for those who live there, such that they can offer their expertise on the place and possibly learn something new as well in a setting as informal as a riverside walking trail?
Do organizations keep track of their signs effective or conduct cost/benefit analysis?
Have you seen great landscape-scale signage?
Please, share your ideas/thoughts!