Seoul's green veins and heart – Cheonggyecheon Stream & Changdeokgung Palace
By Stuart Read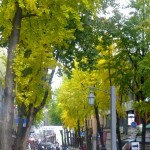 "Greening Seoul" is something quite serious, in scale and time. There's no shortage of need: a mega-city of some 10 million, sprawling for kilometers, with much of it concrete blocks of flats and roads. Changing that, enticing some greenery back, is ambitious and underway, making this city a world leader in some respects.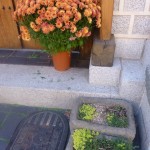 Architectural interventions are one means, re-building blocks to open up shared spaces. Another is 'Greening Seoul', a program seeking to gain more urban green space (80% of the city's green spaces are suburban, with a chronic shortage in urban areas). It is run by the Green Seoul Bureau in the City's metropolitan government, led by a Vice Mayor, with nature & ecology, landscape and parks divisions. Creating and managing major parks, some on former landfill or industrial sites is one key tactic. An example is Naksan Park, Jongro-gu, created by demolishing apartment blocks to make parkland for a better outlook onto green hills for open use. Other programs focus on green-roof making on apartment and office blocks, greening school grounds (540 to date) to act like local parks and linking up parks and green spaces. Air quality and amenity have improved markedly.
Green-ways add vegetation to streets with trees, wall (climber) and buffer plantings. 27 green-ways were made between 2002 and 2007. What impressed me on busy downtown streets were not just thriving maidenhair (Ginkgo biloba), but medians with shrubs and flowers such as chrysanthemums, late-summer asters, flowering amid traffic.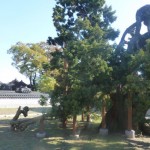 I had never seen as many Japanese (in fact, like many plants, also native to China and Korea) elms or ginkgos as I did lining Seoul's streets and parks. This choice of trees is interesting: ginkgoes were traditionally planted at the entrances to Korean seowan– Confucian teaching academies. They feature outside schools, as Confucius himself used to preach on a platform where one grew. Zelkovas were planted at the entries of traditional villages and seowan, as pavilion or guardian trees, bringing prosperity and well-being. They both reflect a desire for education and dignity. The symbolism of these lining streets, bounding parks, schools and universities begins to dawn…
To read the rest of the article and view its marvelous photographs go to the Garden Drum. This article is brought to you with many thanks to its author Stuart Read and to the Garden Drum.
Stuart Read is a horticulturist, heritage bureaucrat, tour-leader and talk-giver who loves landscapes and gardens. Trained in science, horticulture and landscape architecture, he has gardened and studied gardens in Australasia, Cuba, the Middle East, England and Spain, leading a tour of Spanish gardens in 2010. His writings include Demi-sec: Spanish lessons for Australian Gardens… (2005). He co-authored Interwar Gardens – a guide to the history, conservation and management 1915-1940 (2003), The Oxford Companion to Australian Gardens (2002), and magazines like Australian Garden History and Heritage NSW.