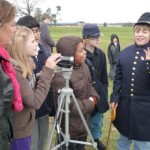 My interest in this topic began during a visit to the Journey Through Hallowed Ground National Heritage Area (JTHG NHA), where I was introduced to the Of the Student, By the Student, For the Student Service Learning Project (OBF) . This program became one of two case studies I explored in my thesis research. Created and customized by the Journey Through Hallowed Ground Partnership (JTHG Partnership) in 2009, OBF connects students with surrounding historic, natural, and cultural resources reaching from Thomas Jefferson's Monticello to Gettysburg National Military Park.
This innovative program presents students with the challenge of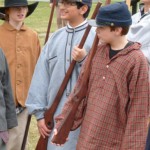 interpreting for themselves, some aspect of a particular historic site they find most interesting, and then conveying their discoveries through mini documentaries or Vodcasts. The project is entirely student-driven, with guidance along the way from JTHG Partnership professionals in areas such as time management, provision of funding and filming equipment, interpretation and film editing. In short, OBF completely immerses middle school students in surrounding heritage sites as they work in small groups to research primary documents (i.e. newspaper articles, personal accounts, etc.), film on site, edit, and produce a short film. Students are encouraged to incorporate music, art, dance, poetry, and other creative elements to give meaning to the story they are trying to tell. In some cases, the resulting Vodcasts are incorporated into the official interpretive materials at various historic sites. In all cases, students embrace the important responsibility of telling a story to their community, to their academic peers, and to the world at large. In the process, students cultivate skills in teambuilding, media technology, and the humanities, as well as develop a deeper connection with and understanding of place. A school administrator involved in the program more poignantly explained: "Every day as our students rode their buses to school they travelled past battlefields, Presidents' homes, and other places of historical significance which they did not know or appreciate. We were committed to changing the way that our students saw the historically rich county in which we lived, but we did not have the vehicle to achieve that change. [The JTHG Partnership] provided that for us through the Vodcast experience. Please follow this link to view completed Vodcasts. 
OBF is a gripping case study in which the NHA directly connects with students –with the cooperation of the teachers and administration. My second case study, Park for Every Classroom, reaches students indirectly, by way of educating their teachers. Developed by the Northeast Regional Office of the NPS in 2011, this program was intended to build collaborations among NPS staff, local community and educational partners, and teachers in order to engage students in place-based learning that would promote stewardship of parks and communities. During an intensive, week-long seminar, teachers assume the roles of students, absorbing the possibilities of integrating their local National Park site into the school curriculum. In addition, teachers are introduced to the concept of service learning and the many ways it can be tailored to meet an authentic need in their own communities. While this program has been successfully implemented at National Park sites all over the Northeast region, one case in particular stood out to me.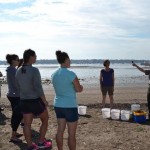 Unlike other applications of the program, the NPS staff at Salem Maritime National Historic Site (SAMA) in Salem, Massachusetts decided to take advantage of the site's position within Essex National Heritage Area (ENHA), and expand the program beyond park boundaries to enable teachers to utilize heritage resources closer to their own communities. Essex Heritage, the managing entity for ENHA, was chosen as the community partner. As a result of this more inclusive approach, the name of the program at SAMA was changed to A Coast for Every Classroom (CEC). Maryann Zujewski, Education Specialist at SAMA and Saugus Iron Works National Historical Site, and Beth Beringer, Education Coordinator at Essex Heritage, lead the seminar together and have a tight-knit partnership. This strong collaboration between NPS and NHA professionals produced a tremendously successful program –proof being in the seminar's waiting list and the overwhelmingly positive evaluations from participants. A recent CEC participant explained that PEC triggers "a revolutionary shift to student driven learning that takes them out of the classroom into a partnership with their community." Like OBF, these projects build students' technological skills as well as their ability to work in teams while at the same time facilitating a deeper community connection. For a list of project examples please follow this link.
            While CEC is NPS-driven, personal interviews with program leaders and participant evaluations indicate the important role of ENHA and Essex Heritage in contributing to the success of the program. For example, Essex Heritage utilized pre-existing partnerships with local sites to bring additional experts to the seminar panel. An important NHA-cultivated partnership with Salem State University offers teachers graduate credit for participating in CEC –a strong incentive resulting in numerous beneficial service-learning projects. Essex Heritage also leveraged additional funding for the project. Lastly, Essex Heritage brought to CEC participants, a greater awareness of the plethora of heritage resources within their communities and the potential, not only for lending a localized context to the classroom curriculum, but for addressing real community needs through service learning. Zujewski and Beringer's partnership has garnered a great deal of positive feedback from CEC participants and accolades from their colleagues. To learn more about the seminar please follow this link: http://www.essexheritage.org/teacher-workshop
Both OBF and CEC strongly embody the principles of place-based learning, a teaching approach that is gaining momentum in schools around the country. Though the concept of lending a localized context to the classroom curriculum is as old as organized learning itself, it was lost in the push to meet national learning standards. As a result, young people lack a deep connection with their communities, and more so, an appreciation for the elements that make their communities unique. So what's the big deal? A major problem is the missed opportunity within these communities to benefit from civic-minded young people, and in many cases, the loss of future productive citizens to other more appealing locales –future productive citizens that may very well take on the responsibility of preserving the resources that make their hometowns unique.
So where does the NPS come into the equation? The ripples of this disconnect with place have also affected National Parks. In fact, the NPS' official document, A Call to Action, notes a decline in the diversity of visitors to National Parks, including younger populations. The document goes on to suggest more creative approaches to engage young people in parks, and, a key point, to instill in them a stewardship ethic that will better ensure the preservation of the nation's special places. Indeed, the importance of place –connection with place, appreciation of place, and stewardship of place- stands out as a critical shared goal among NHAs, the NPS, and the place-based education initiative.
So why are NHAs so important in this equation? In short, NHAs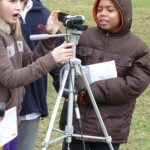 specialize in collaborative partnerships, leveraging funding, and helping denizens to interpret the landscape as a meaningful whole. Over the course of my study, this combination of characteristics played a key role in effective place-based educational programs –programs that draw students outside the conventional classroom to participate in community-oriented, enriching learning experiences. With this in mind, NHAs around the country should move toward assuming a greater leadership role in the realm of place-based education. My hope is that my thesis work will contribute to an ongoing national conversation regarding the value of NHAs, their purpose, and their sustainability in the 21st century. With numerous proposed designations awaiting approval in Congress and annual budget cut threats for those NHAs already in existence, my research findings provide a different angle of advocacy, which further intertwines NHAs with the nation's foremost preservation agency, and equally important, the nation's young people.
The author Marie Snyder received her Bachelor's Degree in Historic Preservation at the University of Mary Washington and her Master's at Goucher College. She recently relocated from Norfolk, VA to Fallbrook, CA where she lives on an avocado farm.