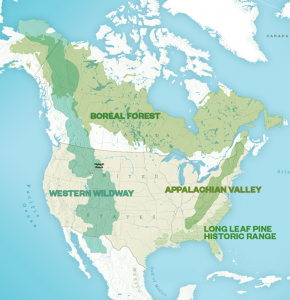 The conservation movement has embraced the idea of preserving large landscapes as the only way to provide the necessary resilience and protection for the world's ecosystems challenged by climate change and the impacts of global development. But how large a landscape is large enough? One of the most world's most eminent scientists, the evolutionary biologist E.O. Wilson, has an opinion on this. In a recent interview with Tony Hiss writing for Smithsonian Magazine, he said "It's been in my mind for years," … "that people haven't been thinking big enough—even conservationists. Half Earth is the goal, but it's how we get there, and whether we can come up with a system of wild landscapes we can hang on to."
Read the entire piece here.
This is not a completely new idea. The organization Nature Needs Half is committed to protecting and connecting half of the earth's land and water based on the best science and commonsense, and is a vision for a new relationship between people and nature. One of the featured large landscapes on the Nature Needs Half's web site is the Yellowstone to Yukon  or as it sometimes known Y to Y. Marking its twentieth anniversary this year, the Y to Y initiative envisions an interconnected system of wild lands and waters stretching from Yellowstone to Yukon, harmonizing the needs of people with those of nature. The Y2Y region traverses two countries, five American states, two Canadian provinces, two Canadian territories, the reservation or traditional lands of over 30 Native governments, and a number of government land agencies. To carryout its work the Y to Y works with five sub regional landscape collaborative including the Crown of the Continent.
Tony Hiss describes his vision of what is big enough in to conserve natural resources in North America. Bigger than the Y to Y corridor, but scaled down from half the earth. He calls these places long landscapes, a permanent network of protected and interconnected wild landscapes that would offer resiliency in the face of changing climates. For example, such huge corridors would allow southern species to move north in the face of global warming and western species to move east to escape drought conditions.
So how do we make this happen? As the work on the Y to Y corridor and its five sub regional landscapes show us, many of the pieces of the puzzle are out there just waiting to be assembled. A good place to start is with the many organizations and agencies that are already working hard to conserve their little piece of the continent. The upcoming National Workshop on Large Landscape Conservation in Washington D.C. is a great opportunity to inspire these practioners to work local and think global (or at least think about 50% of the globe).