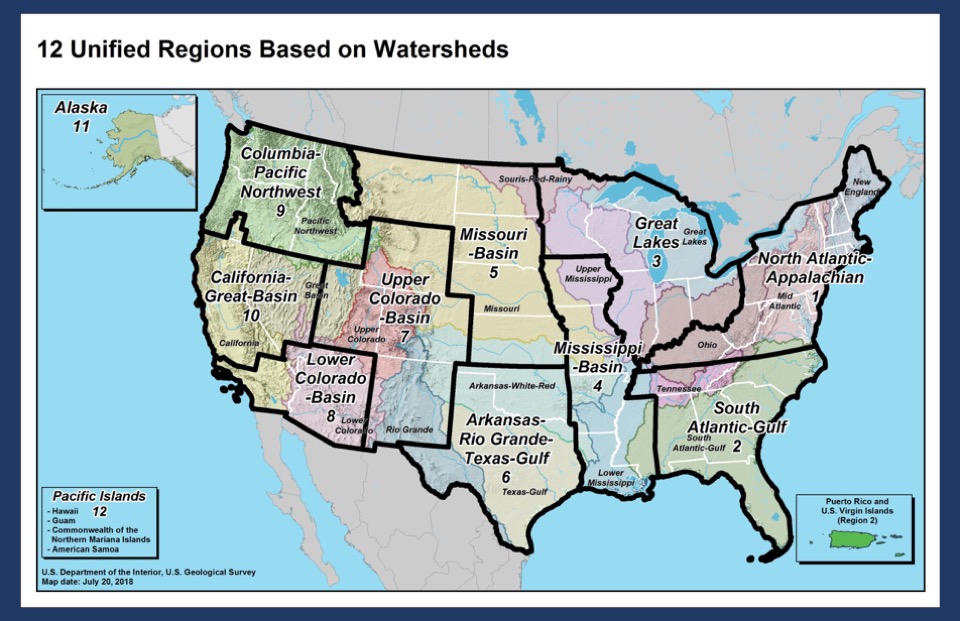 Working on a landscape scale has numerous benefits. For example, it can aide in planning for climate change resilience, wild life corridor management, and cultural connectivity. However, one recent effort to facilitate landscape scale conservation has raised more questions than it answers. In 2018, former Interior Secretary Ryan Zinke announced that the Department of the Interior (DOI) would now be managed as 12 Unified Regions , superceding the existing approaches used by each individual bureau within the agency. The stated goal of the change? To enable entities like the Bureau of Land Management, the National Park Service, and the Fish and Wildlife Service to conduct business more effectively and efficiently.
More recently, in 2019, under a new Secretary David Bernhardt, the Department has adopted a revised vocabulary and a new version of the map.  The exact same 12 Unified Regions have been given a nice geographic gloss with names based roughly on watershed boundaries. The regions are now described as being "Rooted in the best science and focused on watersheds and ecosystems, the Interior Regions simplify how the Department is organized."    However, in actual fact, nothing but the names have changed.  
Looking at budget documents is always instructive and this is where the gloves come off. No more nice talk about the best science here. For example, in the Department of Interior 2020 Budget Request for the National Park Service, the new unified regions are justified as "making it easier for the public to do business with Interior." And it is pretty obvious which members of the public are to be favored, as the document goes on to say: "As part of the reorganization reforms, Interior will relocate some bureau headquarters functions out West where the preponderance of Interior's assets and acres are located." The National Park Service (NPS), an agency that has a portfolio of sites and programs that serve all 50 states and our territories, is specifically directed to assess what headquarters functions could be delivered more effectively "out West" and to identify staff and functions to be moved there. Some regions, i.e. the West, are clearly more favored than others and science has nothing to do with it.
What is wrong with this picture?
Well for one thing it costs money. Funding of $17.5 million was appropriated in Department of Interior FY19 Budget for Reorganization. And more money is proposed in the 2020 Budget. This is not that much in Federal budget terms, but for chronically underfunded agencies like the Fish and Wildlife Service and the National Park Service it adds up.
Loss of talent and expertise. We do not have to guess what will happen to experienced staff in these reorganizations. A recent relocation of the science programs in the Department of Agriculture from Washington DC to Kansas City has already caused two thirds of the staff to leave. The research arm of the department is now in shambles. The Department of Interior has ordered the relocation of over 200 Washington based Bureau of Land Management (BLM) to western locations such as Grand Junction CO. In recent testimony, William Perry Pendley, Acting Director of BLM, opined that 'only' 25% of the employees would reign or retire. This hemorrhaging of professional staff caused Mick Mulvaney the Administration's Director Office of Management and Budget to quip this a great way to streamline government. See our recent article on the uncertain future of the BLM's conservation mission.
Serving which Public Interest? Working on a landscape level is a good thing. After all it was less than a decade ago that the Department of Interior launched the Landscape Conservation Cooperative Network with goal of building connections to tackle large scale and long-term conservation challenges. However, that program is now history and the new 'regionalization' seems to have a different outcome in mind. As was recently reported BLM will now be sharing an office building in Grand Junction with Chevron corporate office, Colorado Oil and Gas Association and an independent natural gas exploration company. The legislative, budget and national program staff from BLM, who had worked closely with Congress, will now be based in town without even a direct airline connection to DC, but just down the hall from 'interests in the West'.
And it is not just BLM. Remember there is a directive and money in the FY 2020 Federal budget for the NPS to focus on what functions can be delivered 'out West'. It is hard to see how this is approach is rooted in the best science and it is certainly not based on most effective governance to conserve the landscapes that the American people treasure.