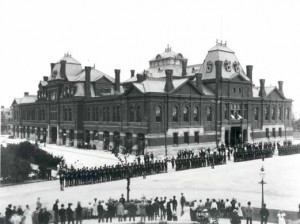 Roughly a week ago, President Obama used his authority under the Antiquities Act to designate Pullman, a former company town in Illinois, as a National Monument. The effort was a long time in the making, with many organizations and partners involved in the designation campaign.
Pullman first came to prominence in the 1880's when George M. Pullman decided to build a model town to house workers employed at his rail car factories. While the accommodations and landscaping of the new community were fairly comfortable, the strict controls exercised by Pullman over the lives and political activities of his employees proved far less agreeable. Residents chafed at his strict behavioral standards and inflexible rents, which became especially onerous during the Panic of 1893, an economic depression like none the nation had ever seen (or would again until the stock market crash of 1929).
As a result of the crisis, Pullman workers saw their incomes drop, but not their rents, precipitating a strike in 1894 that would ultimately last for 2 months. The American Railway Union (only a year or so old at the time), then headed by Eugene V. Debs, sought arbitration, and when that failed, authorized union members to cease work on any trains that carried Pullman Palace cars. The strike – now national in scope and affecting some 250,000 workers – ground much of the country's rail transport to a halt, with little traffic moving in and out of Chicago, the system's largest hub. Ultimately, it took intervention on the part of the federal government, including both an injunction and the use of soldiers (both unprecedented at the time), to bring the action to a violent halt. Though the workers lost the strike, they did succeed in gaining widespread sympathy among the public. This support, however, did not translate into improved pay or working conditions. The 1894 events in Pullman demonstrated not only what solidarity among workers could achieve, but also the lengths to which some within the government and business establishment would go to prevent collective action among labor.
In later decades, the Pullman Company would continue to play an important role in labor and African American history. In 1937, the Brotherhood of Sleeping Car Porters, an African American union founded by civil rights leader A. Philip Randolph, won a contract for Pullman porters – an exclusively African American workforce. Coming amidst the Great Depression, the agreement was truly groundbreaking, marking the first major contract between a union led by Black workers and a large corporation. Indeed, at the time, Pullman was the largest single employer of African Americans in the United States, though the town of Pullman itself remained racially segregated and largely off-limits to Black residents. Significantly, Randolph also played a key role in pressuring President Roosevelt – via his (Randolph's) calls for a 1941 March on Washington – to issue Executive Order 8802 (1941), which prohibited discrimination in defense industries and created the Fair Employment Practices Committee.
Reading such stories, it is hard to believe that it took until 2015 for Pullman to become a part of the National Park system. Even more troubling, Pullman remains one of only a handful of sites that focus on telling stories of industrial work, especially in the context of union organizing, collective bargaining and civil rights movements.* It is important to note that unions, while advocating and organizing for economic change, often practiced racial, ethnic and gender-based discrimination, an important part of the labor story and one that adds much needed complexity to the potential interpretation at a site like Pullman.
Given the undeniable and ongoing impact of industrialization and later de-industrialization on the American landscape, it is well past time for places connected to key industries such as coal, steel, automobiles, aerospace, retail or petroleum to gain the attention (and yes, the debate and national dialogue) that comes with NPS designation. At a moment when income and wealth inequality is growing, reflecting on the role of unions in shaping late 19th and 20th century life seems all the more pressing.
To learn more about some of the labor history sites considered for both National Historic Landmark designation and unit designation, see the 2003 National Labor Theme Study (draft).
* Other sites (please let me know if I have missed any) that interpret these stories include: Blackstone River Valley National Historical Park (RI), Lowell National Historical Park (MA), Keweenaw National Historical Park ( MI), Paterson Great Falls National Historical Park (NJ), César E. Chávez National Monument (CA) and Rosie the Riveter/ World War II Home Front National Historical Park (CA). The Kate Mullany National Historic Site, an affiliated area, also has a strong labor focus.
A large number of National Heritage Areas also interpret and protect sites associated with late 19th and 20th century labor and industrial history including: Augusta Canal National Heritage Area; Baltimore National Heritage Area, Delaware and Lehigh National Heritage Corridor; Erie Canalway National Heritage Corridor Essex National Heritage Area; Hudson River Valley National Heritage Area; Illinois & Michigan Canal National Heritage Corridor; John H. Chafee Blackstone River Valley National Heritage Corridor; Lackawanna Heritage Valley National and State Heritage Area; MotorCities National Heritage Area; National Coal Heritage Area; Ohio & Erie National Heritage Canal Way; Oil Region National Heritage Area; Rivers of Steel National Heritage Area; Schuylkill River National and State Heritage Area; and Wheeling National Heritage Area.