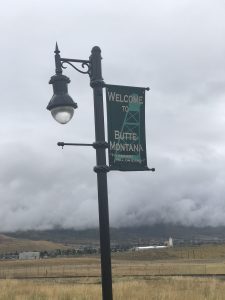 During a two-week cross country drive this summer, I convinced my husband to stop in Butte, Montana. At first, he protested, arguing that it made more sense to spend the night in either Bozeman or Missoula, both lively college towns.
Eventually, after some cajoling on my part, he finally agreed, though I admit that it might well have been the lower motel prices along that stretch of Interstate 90, rather than my own entreaties, which focused on Butte's compelling past and present, that ultimately persuaded him to reserve a room at the local Super 8.
As a student of labor and environmental history, Butte had long been on my list of places to visit. In the late nineteenth and early twentieth century, Butte and the surrounding region became synonymous with both copper production and union organizing. At its peak in the years before World War I, this part of Montana provided almost a third of the world's copper – a material that was essential to the burgeoning telecommunications industry. Butte became a boom town, with many sources identifying it as the largest city between Minneapolis and Seattle in the early 1900s. Companies operating in and around the city, which included huge corporations as well as smaller, locally-owned businesses, employed tens of thousands of men and women in occupations that were both dirty and incredibly dangerous. (1) In an effort to improve conditions and ensure that the incredible profits of mining accrued to both labor and management, Butte's workers organized. By the early 1900s, over 18,000 could claim membership in one of more than two-dozen unions active in the area. Significantly, however, not all workers were welcomed by organized labor. Chinese-owned businesses were systematically boycotted by unions and Chinese workers discriminated against.
The history briefly outlined above would be enough to justify Butte's inclusion as one of the country's most significant industrial regions. But, the story doesn't end there. Copper continued to be incredibly profitable after World War II, with prices reaching new heights during the 1950s. The companies operating in the city and neighboring communities thus had a compelling motivation to continue mining, though they faced a challenge in that the most easily accessible deposits had long since been tapped out. In response, a new method of extraction became the preferred means to access the remaining copper ore – open pit mining.
Before the 1950s, vein mining predominated in Butte. This technique depended on human labor. Workers using picks, shovels, and dynamite dug deep underground shafts, with stations and drifts extending to the ore beds. The shafts were connected to huge iron head frames, which lifted out the ore. Over a dozen of the head frames are still visible in the city.
In contrast to vein mining, open pit mining is a surface-focused technique. It employs gigantic earth-moving machines that remove layers of soil (and trees etc.) on the surface to get to the mineral deposits underneath. A far smaller number of workers are employed using this method.
In 1955, using the open pit approach, the Anaconda Copper Company initiated excavation of the Berkeley Pit. Over the course of the next three decades, hundreds of millions of tons of ore and waste rock would be dug out of the pit, leading the "hole" to grow exponentially. It eventually measured 1.5 miles wide and 1,700 feet deep. In order to allow for the site's expansion, nearby neighborhoods, home to some of Butte's working-class ethnic communities, were abandoned with the Anaconda Company buying out residents and business owners.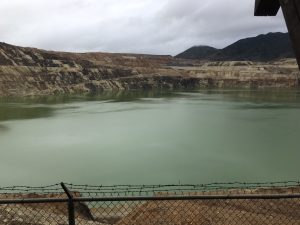 In April 1982, the pit, now owned by the Atlantic Richfield Company (ARCO), officially closed. But, of course, the story is not that simple. After active mining ceased and the pumps that had been keeping liquid out stopped running, the pit began to fill up. The groundwater flowing in was not only incredibly acidic, but also contained high concentrations of metals, including copper, cadmium, iron, and cobalt, as well as arsenic. Designated a superfund site by the Environmental Protection Agency (EPA) in 1983, the Berkeley Pit is now the largest body of toxic water in the United States.
The more recent history of Butte is – I would argue – just as significant as the earlier "boom town" period. While a fair number of historic sites (though probably not enough) examine stories of resource extraction in the 1880 – 1920 period, few examine post World War 2 industrial history, especially in the context of pollution and toxicity. We need to understand and debate the costs and benefits of extraction and production in the past in order to make better decisions in the future.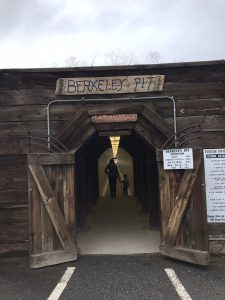 These stories, which are present in communities across the United States, are by no means cut and dry. The tensions between jobs, ecological well-being, human health and wellness, and corporate influence on politics are difficult and often painful to tell. Yet, they need to be explored.
I believe we need a National Park unit that addresses this issue, environmental pollution and remediation, head-on as one of its primary themes, perhaps developed cooperatively with the EPA. The NPS would not have to "own" the land and be responsible for clean-up – indeed, that would be prohibitive. This would be a partnership site, like many other new units. Butte, home to the largest (in terms of number of buildings) National Historical Landmark District in the country is one possible location (it is also important to recognize all the important work already underway in Butte in regard to interpreting its past and also tracking the current state of the environment), but there are many others. (2) The Gulf Coast, the Appalachian coalfields, the industrial farms of the California Central Valley, the many locations where natural gas extraction is proliferating, all come to mind.
It is time we interpreted this past – it is central to U.S. history. A site or sites that focused, at least in part, on the themes of pollution, remediation, and environmental recovery would do much to communicate the costs of industrial production as well as the resilience of communities and landscapes living with the long lasting effects of toxic waste.
For more information on the Berkeley Pit, visit the detailed website. www.pitwatch.org.
An excellent history of the region is Laurie Mercier's book Anaconda: Labor, Community, and Culture in Montana's Smelter City (2001).
1. Estimates put the number of miners who died during the underground mining period as 2,000 or more.
2. There have been efforts to designated Butte as a National Historical Park in the past. Indeed, the New York Times documented these efforts. Timothy Egan, "In it's Own Decay, Butte Sees a National Treasure," New York Times, August 30, 1997.