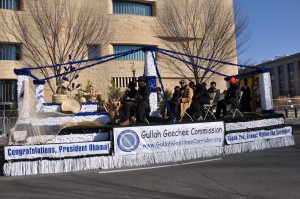 Cheers to the Gullah Geechee Cultural Heritage Corridor for their float in the Presidential Inaugural Parade.  The float featured members of the Gullah Geechee commission and their families and cultural artifacts from the area including the region's famous sweet grass baskets. According to the commission's web site:
"The participation of the Gullah Geechee Cultural Heritage Corridor Commission in President Obama's inaugural parade showcases: 1) America's only National Heritage Area that promotes the heritage of an African American population, 2) a culture that has direct linkages to First Lady Michelle Robinson Obama, 3) a culture through which folk life and traditions continue to impact the American cultural fabric, and 4) a culture that influences military families who reside in communities of the 11 military bases throughout the Corridor."
Read more about the corridor and about the inaugural parade on the corridor's web site.
Congress established the Gullah Geechee Cultural Heritage Corridor in 2006 to recognize the important contributions made to American culture and history by African Americans known as Gullah Geechee who settled in the coastal counties of South Carolina, Georgia, North Carolina, and Florida. Read more about this important cultural landscape in the Living Landscape Observer.