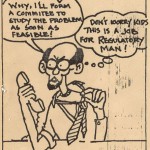 Government development projects, or any large infrastructure projects, have the potential to damage the environment–which includes its cultural heritage aspect. While most nations have put in place a process to assess such impacts, when applied to the consideration of cultural resources the process often seems formulaic, does not address impacts to the broader cultural landscape, and ignores or discounts what communities value as their heritage and their living traditions.
Since such projects will continue to be proposed, may it be transportation upgrades or new energy delivery systems, and some will move forward, the question must be raised: is it possible for us to do a better job? Recently, I read Tom King's provocative paper "Cultural Heritage, Environmental Impact Assessment, and People". He identifies many of the barriers to effectively considering a project's impact on a landscape scale. Even better, he proposes some solutions. Originally presented in 2011 at a World Archaeological Congress "intersession" in Beijing, the paper was published by the Chinese Academy of Social Sciences.
I strongly recommend reading the whole article. However, for those readers who want a quick overview, I asked Tom King to summarize his main points, which he has done in his own inimitable style:
Environmental Impact Assessment (EIA) is an important tool that governments use – in theory – to control the damage that their decisions can do to the human environment.
The cultural aspects of that environment — those aspects that communities value for their cultural significance – should be given careful attention in EIA, in consultation with the people and communities that value them.
That doesn't happen, because "cultural heritage" is defined narrowly, to mean just historic places, landmarks, and artifacts recognized by government based on their value to historians, architectural historians, and archaeologists.
EIA typically doesn't even consider things like impacts on culturally important plants and animals, traditional lifeways, and cultural practices. It gives short shrift to community values, relying instead on the official values of "cultural" agencies like – in the U.S. – the National Park Service and the State Historic Preservation Officers. Who understandably advise only within the scope of their legal authorities.
This kind of EIA is easily manipulated by agency proponents in the name of expediency or by consultants to advance their clients' interests at the expense of local cultural heritage.
We should back away from reliance on "official" lists and "professional" evaluations, in favor of consulting local communities about how to manage cultural heritage as THEY define it. The Akwé: Kon Guidelines, issued under the Convention on Biological Diversity  provides a good model.
Thomas F. (Tom) King is the author, co-author, or editor of ten books on aspects of cultural heritage, and the co-author of National Register Bulletin 38 on the identification and documentation of traditional cultural places. He is a consultant based in Silver Spring, Maryland, and can be contacted at tomking106@gmail.com.