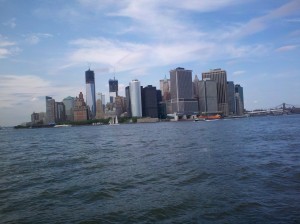 A recent conference (June 19, 2012) Landscapes: Improving Conservation Practice in the Northeast Megaregion brought together over 125 practitioners and state and federal officials to share insights on successful practices and build a network between comparable efforts. Hosted by the Regional Plan Association and America 2050, the event built on the organizations' research on large landscape efforts in the Northeast and the principles in their February publication Landscapes reported in earlier Observer post.
The meeting was held in New York City and attendees who came early were treated to a tour of Governor's Island and a different perspective on the city as a place rising from a landscape of water.  Maybe it was the location. Among many large landscape topics touched on through the daylong conference, the importance of people, community, and telling the story on a landscape scale came up over and over.  A poll taken at the end of the conference showed that 94% of the participants voted that to improve landscape practice and policy in the Northeast it was important to  "[c]reate a narrative of the region that motivates the people who live there."
Why all this talk about the importance of people and populated areas? Mark Anderson, Director of Conservation Science at the Nature Conservancy, presented the conferees a compelling reason. His work has shown that species diversity is highly correlated with a diversity of landscapes – rivers, forests, coastlines and a variety of soil and underlying geology.  It seems that conservationists are delivering solid results preserving upland forests, but not the rich soils and riverine landscapes where people have flocked to settle for thousands of years. In other words, we have done okay on the easy stuff. Now to achieve real gains, particularly in the Northeast United States, we have to take conservation to where people live.
For more conference updates and information on some upcoming pilot projects, see Ron Pirani's article Going Regional with Landscape Conservation on the Regional Plan web site.