by Jane Lennon
In eastern Australia where coal seam gas [CSG] has become a new industry in the last 10 years, the land is the battleground: grazing country, cropping country, state forest, water catchment areas, rural residential blocks and even urban areas. Gas miners through development approvals have the rights to the mineral resources underground, all government- owned in this country, and prevail over the rights of landowners on the surface.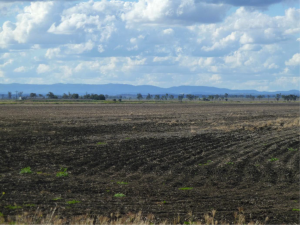 As conventional oil and gas fields decline and prices rise, and the nuclear renaissance has been dimmed by the Fukushima meltdown, coal seam gas is booming along with oil shales, and tar sands. Commercial CSG was first produced in Australia in 1996 when degassing the Moura coal mine after the explosion that killed 11 men in 1994.
CSG, which is mainly methane like natural gas, is trapped in tiny cracks and while colourless and odourless, is toxic and explosive. In high quality CSG deposits the cleats or fractures in the coal bed are permeable enough to allow gas and water to flow freely through them and the fracking process to release gas is not required. Seams producing CSG economically are from 200 to 1000 m below the surface. It flows at lower pressure than conventional gas and extraction relies on drilling thousands of small diameter, slower producing wells in close proximity, about 750 m apart. After the hole is drilled to the required depth, steel casing is installed and cement pumped to fill the space between the casing and the well bore. When the cement hardens it provides a barrier between the extraction bore and the surrounding earth beds. Each well must be connected via a twin pipeline network, one carrying gas to a processing facility for distribution, and the other carrying 'produced' water, which is saline to a reverse osmosis treatment facility
Access roads link the wells in straight-line corridors creating a pin-cushion effect on the landscape and carving huge swathes through forests. About 3,200 active CSG wells have been drilled in Queensland since 2002 mainly for the domestic market as CSG now supplies about 90% of the State's gas, but the industry will be turbo-charged by the LNG [liquid natural gas] boom with 20,000 wells already approved and another 14,500 applied for. These wells are all needed to feed by pipeline the three massive LNG plants now being constructed hundreds of kilometres away from the gas fields on Curtis Island in the port of Gladstone, on the edge of the World Heritage listed Great Barrier Reef.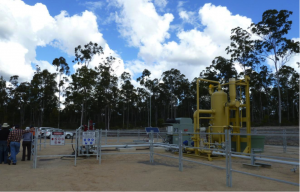 In 2010-11, Australia sold approximately 20 million tonnes of LNG worth $10 billion, making it our seventh largest export. It is expected to quadruple by 2017 and Australia will be the world's leading supplier. Most of Australia's gas is exported along with most of the earnings as 83% of the resources industry is foreign-owned,. The big four CSG producers are: British Gas's QCLNG, Shell/Petrochina's Arrow LNG, Santos's Gladstone LNG, and Origin's APLNG (Manning, 2013:21-7).
The CSG-LNG projects will deliver a huge windfall in taxes and royalties to the Queensland and Commonwealth governments. Queensland royalties are forecast to rise from $120 million in 2014-15 to $985 million in 2031-32. For cash strapped governments it's a revenue boon, but the downside is doubling domestic prices to reach 'export parity', fly-in-fly-out or drive- in-drive-out workforce, and a two speed economy which is socially divisive. Companies with a highly paid workforce, paying tax and undertaking construction risks are sensitive to regulatory burdens and all governments facilitate their projects and do not enforce detailed prescriptions. Despite all the speed and volume of gas projects, there is a shortage of gas as difficulties getting access to farmers' land slows down drilling and costs are high in comparison with Qatar, Mozambique, Canada and the USA (Manning, 2013:28-31).
As Australia's latest resources boom gathered pace at the end of the last decade, 'farm versus mine' conflicts were erupting. Farmers and rural residents were successful in getting the attention of urban dwellers and these conflicts were reported regularly in rural papers like The Land in NSW and made daily reading in major newspapers from 2009.
Environmentalists, the Greens and farmers formed an alliance of direct action –the Lock the Gate movement. They engaged in broad civil disobedience such as protests outside company offices and road blockades at well sites in 2011, and thousands of property owners put their distinctive yellow triangular signs on their gates and vehicles thus ensuring high visibility for the protest message. Investigations for television documentaries like 'Four Corners' and '60 Minutes' as well as radio shows like 'Landline' broadcast the issues nationally. US documentaries Gasland and Split Estate were widely viewed.
However, these were drought times still after a long dry decade and not all farmers objected. They were grateful for the annual rent for wells drilled on their land. In 2010 new Queensland legislation ensured farmers were compensated for any impact on their water bores and in 2011 strategic cropping lands were protected by new legislation. However, the three major CSG-LNG projects approved in 2010 proceeded despite the Coordinator General highlighting weaknesses in the environmental impact statements including failure to adequately address cumulative impacts, greenhouse gas emissions, and impacts on underground water. He pointed out that poor water management had the potential to result in widespread, irreversible harm with long term problems for soil, waters, vegetation, ecosystems, crops and future land use (Courier Mail, 8 September 2010). He resigned soon after. Paul Cleary in his 2012 book Mine-Field noted (p.78) that senior public servants had 'been put in humanly impossible situations in working on CSG approvals.'
With a unicameral parliament in Queensland and no Greens MPs, review of major developments is almost impossible along with the rush for royalties before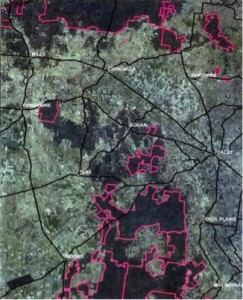 regulation. The Newman government established a Gasfields Commission in 2012 but it was compromised from its first appointment. The Department of Environment and Resource management in its 2011 compliance report noted that no unscheduled audits of fracking had taken place that year due to occupational health and safety difficulties but these audits are the cornerstone of effective regulation. Poaching of scientists and skilled people to the better paid CSG industry also meant that government lacked the skills and people to effectively assess and regulate the industry (Manning, 2013:127-131). Meanwhile government staff in rural areas are trying to protect the people's forests, public land originally reserved on the Darling Downs as State Forests for timber production [outlined in red at above].
Arrow Energy has wells in and adjacent to Braemar SF which lies roughly between the Dalby-Kogan and Dalby-Tara roads, to the west of the rich farmlands along the Condamine River.
The photographs below show the extent of development of wells, pipelines, access roads, reverse osmosis water treatment plants, brine ponds and gas processing plants from 2005 (left ) to 2012 (right).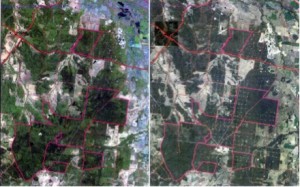 There are separate ponds of 840ML and 960ML respectively for produced and treated water. The dots are pads for the wells '70m by 70m with a 15 year life expectancy depending on the depth of the coal strata'. A reverse osmosis facility [top right corner of photos] treats the water and pumps it to a farm experimenting with central pivot irrigated corn and cotton with salts ranging from 25 to 7000 ppm and the salts treated to brine might be used as fertilizer (Arrow Energy, pers. comm., 21 June 2014). There is a redesign of the well distribution, which was five wells on a dice pattern, now with 12 wells on a single pad three kilometres apart along the Condamine flats and the pad can be in paddock corner rather than in the centre.
These production wells target the confined Walloon Coal Measures below the Condamine alluvium. Some wells may be as shallow as 150m. The Condamine alluvium is already depleted and highly regulated with farmers only allowed to take 46 GL/per year from the aquifer for irrigation, which is half the historical level. Unfortunately about 40% of Arrow's gas lies in the Horrane Trough right beneath the floodplain which on any assessment is strategic cropping land producing $5000 per hectare annually for cotton (Manning, 2013:141- 4). Farmers fear this land could be contaminated if production water gets into the aquifer.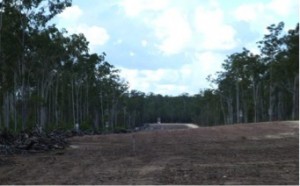 The South East Queensland Regional Forest Agreement in the late 1990s meant the end of native forest logging which was to be phased out by 2025 and 1.2 million ha locked up. The Newman government in 2010 opened all State Forests for logging and increased mining tenements, although 400, 000 ha was transferred to National Parks without tenements and Native Title ILUAs (Indigenous Land Use Agreements). Braemar State Forest (SF4) was established in the 1930s for western hardwood extraction and contained forestry barracks and an arboretum. Currently it yields royalties of $200 ha for 15 years of localised cutting then it will cease. Forest Products Branch currently receives more revenue from selling rocks from their quarries than from trees (T. Beetson, pers. comm., 21 June 2014).
In the forest, gazetted roads were cleared by the Shire and Arrow Energy pays for this. They have 3 months for salvage of timber but Forest Products staff need 12 months to cover the rate and extent of clearing so the compensation clause of $2000 ha comes into action. They have to chip all the cleared vegetation from the well pad sites as a carbon offset. Pipes have been laid at shallow depth despite permit conditions and this makes forest harvesting difficult. The high pressure lines are steel but the feeders are polypipe. Habitat fragmentation (above photographs) is the result of all this construction and clearing, despite the EIS agreeing to 'retention of corridors' and permits granted to clear 2-3% of the tree cover. There are three huge parallel pipelines cutting through the forest taking gas for export to Gladstone and shipping terminals.


Condamine State Forest (SF181) is severely impacted by CSG. Cypress trees take 200 years to reach commercial size and apiary sites are worth only $150 annually in rental but miners do not want log landings on cleared areas for pipelines and are suspicious of any visitors to their sites in forest areas.
Monitoring of conditions is also problematic with multiple agencies having different levels of authority. The Department of Mines monitors mine safety; the Department of Environment and Heritage Protection sets out the environmental controls following consideration of company submitted EIS reports and Department of Agriculture, Fisheries and Forestry monitors clearing and collects royalties for cleared vegetation. Arrow Energy staff said they monitor conditions (for example, fugitive emissions) and employ contractors to monitor against the conditions of the permits to operate.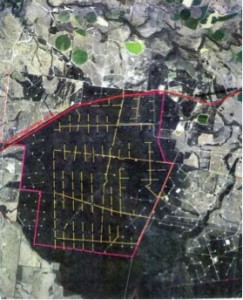 Braemar power stations nos 1 and 2 (photograph below) operate adjacent to the Kogan Creek Power Station and its Queensland to NSW high voltage transmission interconnector and the Power Link substation forming a big hub in the forest. They use CSG fired turbines and production water, not steam, and so are almost invisible in the forest landscape until one arrives at their fenced off compounds.
These highly efficient power stations supply electricity to Brisbane but the explosion in CSG wells is to provide gas for export to foreign markets. Governments receive large royalties now and a few towns are buzzing with spinoff commercial activity as they supply the network of private contractor villages that have sprung up across the gas fields. While some farmers are happy to receive annual rentals for wells on their properties most are concerned about long term impacts on their underground water and the rehabilitation costs [25, 000 wells of varying depth] for their land surface. The Darling Downs as part of Australia's prime food bowl should be protected from resource extraction industries and gas mining companies should be subject to the same regulatory regime as farmers for water use.
The gas industry has been given rushed approval to transform some of Australia's most productive agricultural country on a previously unimaginable, region-wide scale, without a rigorous scientific understanding of the impacts and without a community or social license to operate. In another 25 years who will pay to clean up the mess across the landscape and underground and will there be water for farming?
Jane Lennon is a founding member of Australia ICOMOS, a former ICCROM council member and Australian Heritage Councillor. She is an expert member of the ICOMOS/IFLA Cultural Landscape Committee She holds a PhD from Deakin University and she is currently an adjunct professor at the University of Melbourne.
References:
ABC North Coast [http://www.abc.net.au/local/stories/2013/09/25/3855889.htm] Institute of Foresters, Qld, Field trip, Dalby, 21-22 June 2014
Cleary, Paul, 2012. Mine-field: The dark side of Australia's resources rush, Black Inc, Melbourne
Courier Mail, Brisbane, 8 September 2010
Manning Paddy, 2013. What the Frack?: everything you need to know about coal seam gas, NewSouth QuickEs book, Sydney