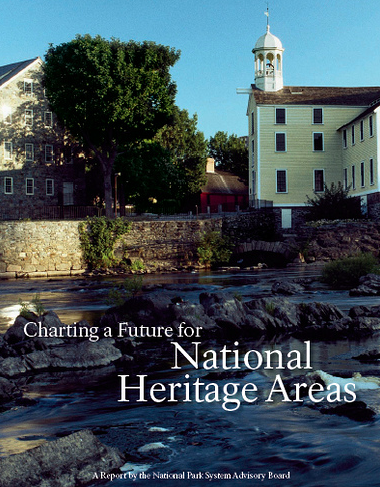 Sixteen years ago, the National Park System Advisory Board (Advisory Board) published Charting a Future for National Heritage Areas (NHA). The report featured an overwhelmingly positive assessment of the NHA model. It highlighted, for example, the important role that NHAs play in extending the impact of national park units beyond their boundaries.
Charting a Future also called attention to the unique ability of many NHAs to blend cultural and natural resource preservation with community development at a landscape scale. The report closed with a clear call to action for National Park Service (NPS) leaders. The agency needed to commit to NHAs for the long term, recognizing their pivotal role in achieving the NPS mission in the 21st century.
When Charting a Future was released, there were 27 NHAs, mostly in the Northeast and Midwest. Since then, the number of NHAs has grown dramatically. There are now 55 NHAs located in all parts of the country. Interest in the designation remains strong, with over a dozen bills in the current Congress seeking to study or create new NHAs in places like the Bronzeville neighborhood of Chicago (Black Metropolis National Heritage Area), the Northern Neck of Virginia, and the Monterey Bay of California. The NHA model is popular among diverse constituencies, cost effective, and achieves measurable results.
Yet, in the close to two decades that have passed since Charting a Future's publication, few of its recommendations have been put into practice. Federal funding remains largely stagnant, despite a doubling in the number of NHAs. Bipartisan legislation to create a formal NHA program with standardized designation and evaluation processes has been introduced in multiple sessions of Congress – including the present one – but has failed to gain enough traction to pass in the House and the Senate. The situation leaves the 55 current NHAs, along with those regions seeking to become NHAs in the future, in a liminal status. No one knows for certain how prospective or established NHAs will be assessed in the years to come. This, in turn, makes long-term planning, which is a key aspect of the NHA model, far more difficult to pursue.
In terms of NPS and DOI backing, the vision of Charting a Future also remains unrealized. Officials within the Department of the Interior (DOI) and the Office of Management and Budget (OMB) regularly seek to curtail federal monies for the program. Indeed, just this fiscal year, the Biden administration again proposed cutting funding for NHAs. Also incredibly concerning is a lapse in the funding authorization affecting more than two-dozen NHAs. Action needs to be taken on this issue as soon as possible, in a manner that helps all the affected NHAs, not just those from a particular state or congressional district.
Finally, another issue facing NHAs is a growing wariness of federal action. Proposed NHAs, in western states especially, have long encountered skepticism from a mix of residents, politicians, businesses, and politically conservative think tanks. Their concerns have centered on the possible land use implications of NHA designation on both private and public lands. Historically, NHAs have not had any impact on land use and indeed, the authorizing legislation of almost all NHAs explicitly prohibits the use of federal funds to purchase land. The persistence of these misgivings, however, speaks to the importance of the feasibility study process, especially the development of long-term relationships with diverse stakeholders. The designation of a growing number of NHAs in western states demonstrates that trust can be built over time, through learning, listening, and exchange.
In recent years, however, national politics have ensnared the NHA designation process, which has generally been nonpartisan and tied to local/regional issues. In an October 2021 story, for example, the The New York Times chronicled how a nascent NHA effort in Montana faced unfounded claims tying the proposal to all manner of potential impacts on private property. Though none of the allegations had a factual basis, the accusations still stuck, eventually leading the state legislature to pass a law on party lines banning NHAs in Montana. Several other budding NHA efforts have faced similar opposition in other states as well, with its roots in national debates over the role of government, rather than a particular aversion to the NHA model. At present, it remains to be seen how these movements will affect NHAs prospects in Congress. At the very least, prospective NHAs will likely face greater scrutiny and push back, slowing the growth of designations.
Even with all these challenges though, the current moment still presents an excellent opportunity to achieve the goals laid out nearly 2 decades ago in Charting a Future. With their emphasis on cooperation, partnerships, and planning, NHAs provide a useful template for preservation and conservation projects in the 21st century. The work of NHAs make the NPS more relevant and accessible to communities across the country. The traditional models of protected area management, largely top-down and antagonistic towards lived-in landscapes, are simply not adequate to address the needs of a world confronting climate change, urbanization, and the loss of biodiversity – as well as long overdue reckonings on racial justice and colonialism. With almost forty years of experience, NHAs offer an alternative approach, one dedicated to community development and capacity building. Charting a Future laid out a useful roadmap to support this important initiative, now it needs to be followed.