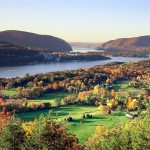 Conservation of nature and heritage is important to having both good places to live and to leaving a better legacy for future generations. New York has done well in conservation, better than most people realize.
Bob Bendick, a former deputy commissioner with the state Department of Environmental Conservation and now director of U. S. Government Relations at The Nature Conservancy, recently wrote an article titled "Creative Conservation: Reflections on the Way to the Future." It can be found on the Lincoln Institute website . It reinforced my belief that we have been in the vanguard of conservation for a long time.
Bendick advocates moving beyond the "100-year-old debate between conservationist John Muir and forest manager Gifford Pinchot." This debate was about choosing between protecting nature for its intrinsic value, as we do in national and state parks, or being utilitarian and practicing sustained harvesting of forests, as we do other places.
It was simpler when conservation solutions could focus on specific places like creating a particular park. Today the health of land, air and water is at stake and impacts of threats like global warming mean every place needs some form of management.
Conservation organizations like The Nature Conservancy are working at the landscape scale. A little more than a decade ago, The Nature Conservancy would concentrate on small areas of habitat to protect endangered species like the Karner blue butterfly in Albany's Pine Bush. It has changed its focus to whole landscapes or what it now calls "whole systems." Disconnected pieces of natural systems often do not survive. Nor does nature thrive just by being in traditional gated parks separated from their ecosystem.
This more holistic approach is spreading according by people like Bendick into "a nationwide movement of landowners, government agencies, nonprofit organizations and community groups working together to protect the places they value, such as the Blackfoot Valley in Montana, the Flint Hills of Kansas, and the Connecticut and Hudson River valleys in the East."
Bendick's strategies for creative conservation are not new in New York. We have examples of working at landscape scale for more than a century starting with the creation of the "forever wild" Forest Preserve in 1885, the vast Adirondack Park in 1892 and the Catskill Park in 1904. Our natural landscapes were celebrated in the 19th century by the Hudson River School of Artists.
Now we have the Hudson River Greenway, the Hudson River National Heritage Area and the Hudson River Estuary program all working at landscape scale to protect the environment and serve human needs in the Hudson Valley.
The state's innovative state heritage area program was established to achieve management goals for the amalgam of natural and cultural resources both cities as well as regions like the Concord grape region in western New York.
Former Gov. Mario M. Cuomo said in a speech at a National Park Service conference in 1991 that the Adirondack Park is "home to thousands of residents and welcomes millions of visitors a year, but at the same time retains much of the majesty the Iroquois knew a century ago." He declared "the greenway, I hope, will become New York's emerald necklace — a place where the resources of one community become the resources of a broader community, where the value of the whole transcends the sum of the parts."
Inspired by this legacy of working at an ecosystem scale, Rep. Paul Tonko has introduced legislation in Congress to establish a five-state Hudson-Mohawk Basin Commission encompassing the Mohawk River and Hudson River valleys and the New York Harbor.
Creative conservation is not new to us. We should be proud of our conservation achievements and take more advantage of our having had the foresight to protect and celebrate the large landscapes and heritage areas that are increasingly being valued.
Paul M. Bray was the founder of the Albany Roundtable – Read more and see this article in the Albany Times Union