Over the past forty years, disputes over federal land management in the western United States have changed dramatically in both scope and scale. What were once largely local and regional conflicts centered on the land itself have now gone national, with actors and implications that extend well beyond the realm of public lands policy – indeed, that encompass questions over the very legitimacy of government itself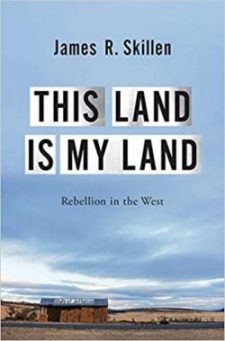 Last month, the Living Landscape Observer featured a series of articles on current public lands policy debates, highlighting the challenges facing public lands managers and advocates as the U.S. approaches a presidential election. One piece, for example, highlighted a startling juxtaposition from this past summer – passage of the ground-breaking Great American Outdoors Act, which included full and permanent funding for the Land and Water Conservation Fund, with the continued sale and promotion of oil and gas leases on large amounts of public lands acreage throughout the West.
How did we get to this moment? To gain insight into the complex and ongoing history of U.S. public lands, the Living Landscape Observer interviewed Dr. James Skillen, author of the newly published This Land is My Land: Rebellion in the West. Learn more about the book's content and organization here.
Dr. Skillen is an Associate Professor of Environmental Studies at Calvin University in Michigan and has written extensively on federal land management. In addition to his most recent book, he is also the author of The Nation's Largest Landlord: The Bureau of Land Management in the American West and Federal Ecosystem Management: Its Rise, Fall, and Afterlife.
During our interview, Dr. Skillen emphasized the links between public lands controversies and other issues of federal authority or oversight, including gun control, religious expression, and private property rights, noting that "public lands decision points are connected to a national political debate over the validity of federal authority."
He also explained the interplay between passage of new environmental and public lands laws in the 1970s, including the Federal Land Management and Policy Act and the Endangered Species Act, and the emergence of the Sagebrush Rebellion movement. Listen to an excerpt below.
Over the past decade, there have been several armed stand-offs between citizens and federal law enforcement officers in states throughout the West. The origins of these at-times violent disputes are also treated extensively in Dr. Skillen's book, as is the resulting national and, indeed, global media coverage. listen below to learn how one event in 2014 helped inspire him to write the text as well as gain insight into the periodization of public lands conflicts over the past 50 years.
For land managers and others seeking to understand the roots of contemporary conflicts – as well as how the issues they confront are connected to a whole array of other political debates – This Land is My Land is an incredibly useful and engaging read. Learn more about the text, including chapter summaries here.