This month, we had the privilege to interview Ta Enos, Founder and CEO of the PA Wilds Center for Entrepreneurship. Ta has a rural entrepreneurship background and 20 years of experience in journalism and public communications in Alaska and Pennsylvania. As Founder and CEO of the PA Wilds Center for Entrepreneurship, she has scaled the nonprofit and built a team that is developing models for asset-based rural development that are recognized nationally.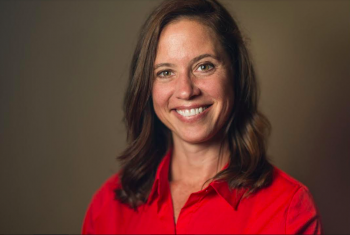 Prior to founding the nonprofit in 2013, Ta served as the PA Wilds Small Business Ombudsman for five years, working with entrepreneurs across the 13-county PA Wilds region. She says that when she saw the difference the PA Wilds work was making in the region's rural communities, it inspired her to go way outside her comfort zone and found the Center to help advance and sustain the movement.
Before returning to her home state of Pennsylvania, Ta spent 10 years as a news reporter and editor in Alaska, writing for the Anchorage Daily News, Anchorage Press, Dutch Harbor Fisherman, Bristol Bay Times and other publications.
A fourth-generation resident region, Ta lives in the northwest corner of the PA Wilds with her husband and three young boys. She is working on a memoir about her experience moving back to her rural region and helping lead what has been called "one of the greatest, rural natural resource based economic development programs in America." TA holds a bachelor's degree in Journalism & Public Communications from the University of Alaska Anchorage.
LLO: What is the Pennsylvania Wilds? Can you describe the physical landscape and the organizing concept / idea to those outside the region?

TE: The Pennsylvania Wilds is one of the Commonwealth's 11 designated tourism regions. The region is the size of Massachusetts, economically-distressed and home to the greatest concentration of public lands in the Commonwealth. We have two National Wild & Scenic Rivers, the largest wild elk herd in the northeast and some of the darkest night skies in the country. It is also one of Pennsylvania's eight Conservation Landscapes because of its unique natural assets. The PA Department of Conservation and Natural Resources (DCNR) established its Conservation Landscapes Program in 2004 to further place-based and landscape-scale initiatives that embrace partner collaboration and entrepreneurial thinking (learn more about PA's Conservation Landscapes in this recent report).
For more than 15 years, public- and private-sector partners in our most rural part of the state have made coordinated investments to establish the 13-county PA Wilds region as an outdoor recreation destination to help diversify rural economies, create jobs, improve quality of life and inspire stewardship. These include investments in small business development, branding and marketing, community character and natural resources stewardship, regional planning, and recreation infrastructure.

Through increased visitation and thoughtful investments in rural communities, the PA Wilds strategy is helping the region recover from decades of divestment and population decline by building rooted local wealth through entrepreneurship while celebrating and bolstering a stewardship ethic. These investments in turn make our rural communities – and the major employers in them – more competitive.

As the coordinating nonprofit for the PA Wilds Conservation Landscape effort, the PA Wilds Center, a 501(c)(3), works closely with DCNR, the PA Department of Community and Economic Development (DCED) and other public and private-sector partners at the local, state and federal level. The Center is also the administrative home to a ground-breaking Intergovernmental Cooperation Agreement (ICA), the largest geographically of its kind in PA, which brings together the region's 13 county governments and other partners around the PA Wilds strategy through a group called the PA Wilds Planning Team. The Center's Board of Directors is a mix of public- and private-sector leaders across a range of disciplines.

LLO: Where did the inspiration for this effort come from?
TE: I guess you can say the PA Wilds started the way a lot of opportunities do, with a challenge. Thanks to many years of conservation and wildlife management efforts, our region's wild elk herd was rebounding. Word was getting out and visitors were flocking to see these majestic animals. But this was all happening in a super rural area that didn't have the infrastructure to support the kind of visitation it was getting. So a Republican governor commissioned a study, and when his successor, a Democrat, took office, he took that report and visited the region and was really blown away by the elk and also by the region's vast public lands and charming small towns.
With enthusiastic support from his Secretaries at DCNR and DCED at the time, a larger vision including the idea to brand the region as the PA Wilds was born. So the strategy itself was born at the top, but it never would have survived had it not resonated with locals in a real way, and had the state not championed local ownership from the start. Both happened. Today, several administrations later, the work is locally-driven, supported on both sides of the aisle, with strong involvement from our state partners around shared goals. As someone who grew up here, I can say it is a hugely positive effort.
LLO: Economic development and conservation interests can often be at odds with one another – what does collaboration look like in the Pennsylvania Wilds and how have you been so successful?
TE: Yes, economic development and conservation interests are often at odds. But in our landscape, marrying these two concepts is a no-brainer. Our natural assets are bringing new visitors, wealth, jobs, even residents to our rural communities, they are making our major employers more competitive, so it only makes sense to be great stewards of these assets. A lot of people here get that, and I think that's a big part of why this work has been successful. I think another reason is because this landscape level approach acknowledges that to better steward public lands you have to care about the communities around those lands. I give PA DCNR huge kudos for walking the walk on this. They invest in our communities and in this work in tremendous ways, year after year, through dedicated staff support for the work in the conservation landscape, grant support from its Community Conservation and Partnership Program and by managing so many of the region's star assets located in the 29 state parks and 8 state forests across the landscape.
The other thing that has been critical to our success is that this work, from the beginning, has attracted innovative thinkers from a variety of fields and industries in our region and state who want to help advance it. I have a great Board and a staff that blows me away daily with their work ethic, creativity and spirit. And then we are surrounded by and interacting with all these amazing rural entrepreneurs and conservation people, who are just completely inspiring in their own ways. As far as what does the collaboration look like, I'd say it looks genuine and authentic. Mostly fun and full of passion, sometimes rocky, always interesting. Just real. For me, when marrying conservation and economic development, it often starts by looking at a specific economic challenge and trying to help solve that in a real way on the ground with the help of these innovative thinkers around me. And then taking that solution and asking, how do we make this solution work harder for stewardship and/or conservation? We look a lot at how to make the market work for a particular solution, and how to make technology work for it.
LLO: How do you work across such a large landscape? Any advice to offer other efforts that have a similarly large geographic scale?
TA: On the program side, technology is a big help to allow us to serve the region. Even before COVID, because of our size, we were building systems that allowed people to plug in and benefit from the brand and our programs from many different locations.
The real challenge to our geography is in developing and maintaining partnerships. So much magic can come from bringing different kinds of partners together around a strategy or project. But building deep relationships takes real resources. Positions at partner organizations and political offices are constantly changing. Amplify that across a place the size of Massachusetts and it gets tough for a small staff. Building trust is critical. We have to be realistic and mindful about what partnerships we are trying to grow or reconnect with in a given year.
For example, we had a lot of county commissioners change over in the last few years, so we are going to try to do Zoom calls with all 13 sets of commissioners to put faces to names, talk projects and economic impact in their areas, and answer questions. I have found that meeting in person at least once a year is important. Having a core stakeholder network to help make in-person touches or to call on for insights around specific projects or situations is critical. Having staff based in different counties matters.
We also strive for geographic diversity on our board. We have one major event a year (an annual awards dinner) that brings scores of our stakeholders together, and that is helpful. We also publish several e-newsletters, social media communications, an annual report, etc. And handwritten thank you cards, they matter.

LLO: Can you highlight a program or initiative that might be interest to our readers?

TA: PAwilds.com is our regional visitor site that helps excite and orient people to our 2M+ acres of public lands and charming communities, as well as our region's conservation legacy.

The Wilds Cooperative of PA is our network of makers, outfitters, shops, lodges and other businesses and nonprofits that are rooted in our communities and are helping us grow the PA Wilds as a destination and lifestyle brand.

PA Wilds Conservation Shops are our stores that focus on selling regionally-made products from the Wilds Cooperative rural value chain at high foot traffic sites like flagship destinations managed by DCNR and other partners. Whether at a brick-and-mortar shop or online, shoppers support regional businesses and the PA Wilds Center's mission through purchases and they can also take part in a charity checkout campaign for conservation. This is possible through a new and unprecedented public-private partnership that we have with DCNR.

The PA Wilds Design Guide for Community Character Stewardship is a great free resource the PA Wilds Planning Team developed to help property owners, developers, municipal officials and others build to fit the landscape. This tool can easily be adapted for different areas to help preserve the unique and authentic qualities of any community or place.