WORLD RURAL LANDSCAPES PRINCIPLES: PROTECT RURAL LANDSCAPES AND THEIR HERITAGE VALUES. LLO article no.6
In this issue we will consider the need to develop legal protection and policy frameworks to protect the heritage values of rural landscapes. In Australia this protection varies. Public lands like national parks and conservation reserves are usually managed through their own legislation which sets out the management objectives and values that must be protected. Privately owned rural lands might be zoned rural, rural residential or conservation in local government planning schemes and this entails a range of policies enabling uses. 'Rural zone' land has the least constraints and is generally farming land -agriculture, horticulture, grazing, cropping. However, the suite of policies varies in different regions and States.
B.1 Legal and policy frameworks
Windmills, fences, homesteads, shearing sheds, bores, stock yards, travelling stock routes, bush roads and railheads all changed the appearance of the original country. These historic features form an important part of our rural heritage but are not readily discernible to those without social connections to the countryside. Some of the iconic homesteads and woolsheds are listed on State government heritage registers and legally protected. Most of Australia's rural heritage which is protected is designed colonial farms and estates, where before 1850 many convicts cleared trees, built fences and yards, and many are now relict landscape features. The associated agricultural landscapes are not protected under heritage controls as they continue to evolve as productive farms. Each State and the Commonwealth maintain heritage registers developed since 1974 in response to the growing recognition of the value of heritage to the community.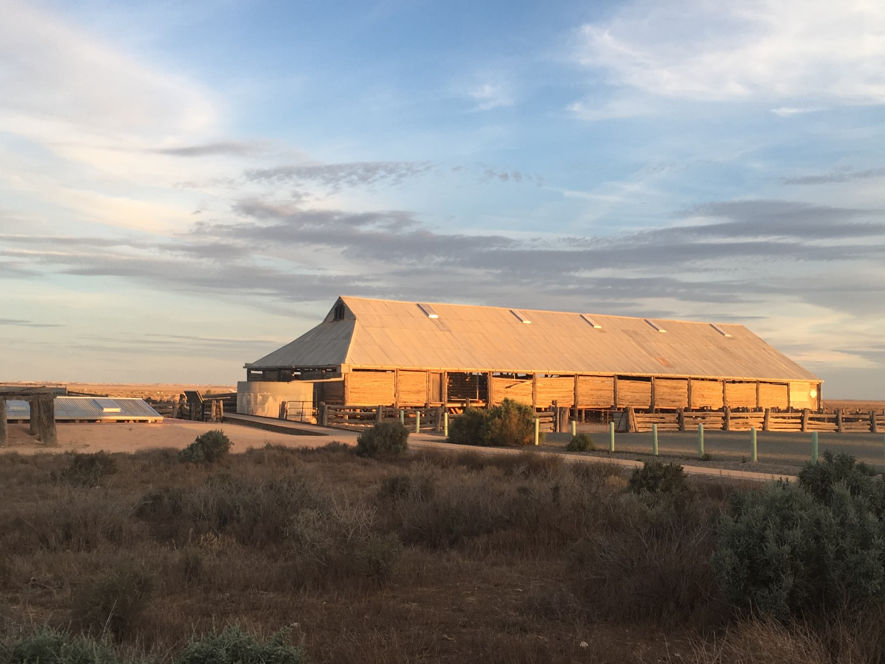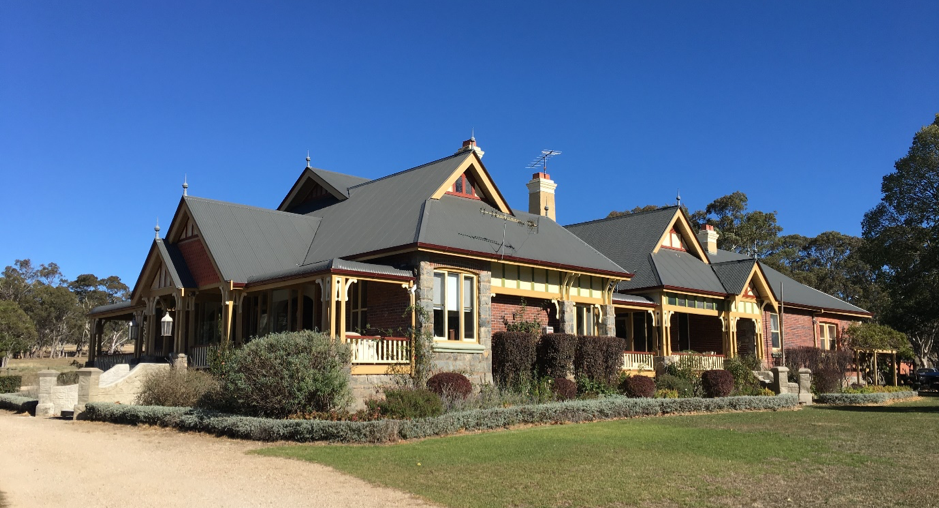 States have the power in the Australian Constitution to regulate land use and heritage listed places are protected through provisions of the local government planning schemes. Some States have Local Environment Plans (LEPs) with Heritage Overlays which identify heritage items, mostly buildings, and aim to protect the visual character of distinctive farming areas. The rural zoning in the LEPs aims to encourage sustainable primary industry production by maintaining and enhancing the natural resource base, while minimising the fragmentation and alienation of resource lands and conflicts between land uses within the zone and land uses within adjoining zones. There is rural landscape zone which aims to encourage sustainable primary industry production by maintaining and enhancing the natural resource base, maintaining the rural landscape character of the land, providing for a range of compatible land uses, including extensive agriculture, while encourage the retention, management or restoration of native vegetation. There strict laws to protect native vegetation which has caused conflict with farmers wanting to clear mature regrowth.
The Environment Protection and Biodiversity Conservation Act 1999 (EPBC Act) is the Australian Government's environmental legislation. It covers environmental assessment and approvals, protects significant biodiversity and integrates the management of important natural and cultural places.
If a new project on rural land is likely to have a significant impact on a matter of National Environmental Significance (such as a threatened native grassland, marine park or threatened species) the matter is referred to the Australian Government Department of the Environment and Energy.
B.2 Implement policies
In November 2019, Australian Environment Ministers endorsed a new approach to biodiversity conservation through Australia's Strategy for Nature 2019-2030. The Strategy is supported by a dedicated website, Australia's Nature Hub. They bring together existing work across the country to guide the development of new and innovative approaches to biodiversity conservation. The Strategy goals support healthy and functioning biological systems by promoting a stronger connection between people and nature, improving the way we care for nature, and building and sharing knowledge. It provides an adaptive approach allowing each jurisdiction the flexibility to establish targets appropriate to the variety of environments across Australia and to change these as knowledge is built during the life of the strategy.
Eradication of pest plants and animals in the rural landscape requires many partners. This case study shows one group at work:
The Tarrangower Cactus Control Group was formed in 2005 specifically to tackle the infestations of Wheel Cactus (Opuntia robusta) invading our rural landscapes. It is a well organised group of volunteers and landowners dedicated to destroying and controlling these infestations of Wheel Cactus on private and public land. This noxious weed is now a Weed of National Significance because it is extremely invasive and difficult to kill. The group encourages participation by demonstrating best-practice management and providing incentives. They hold several community field days each year and produce and distribute information brochures and media releases.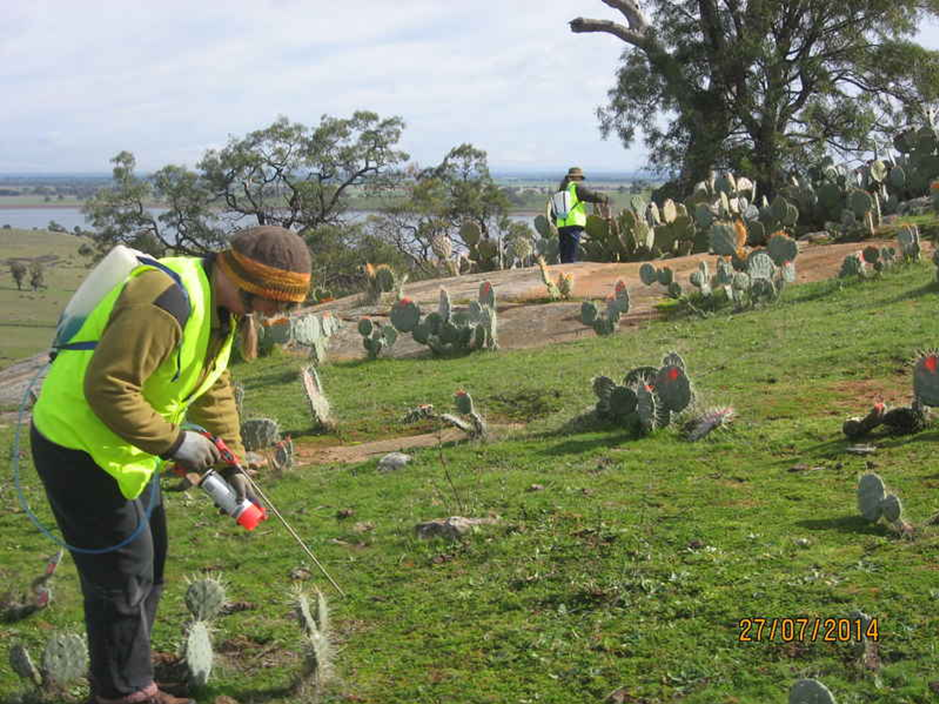 Policies to protect biodiversity in rural landscapes of all scales are being implemented by private groups as well as government nature conservation agencies.
Another case study revolves around volunteer conservation works: BirdLife Australia's Gluepot Reserve is Australia's largest community managed and operated conservation reserve. It is located in South Australia's Riverland, and managed and operated entirely by volunteers. Some 54,000 hectares in size, it is home to 22 nationally threatened species of birds, 53 species of reptiles and 12 species of bats, some of which are nationally threatened. Volunteers conduct many programs including feral control, bird counts and environmental education courses [https://gluepot.org/].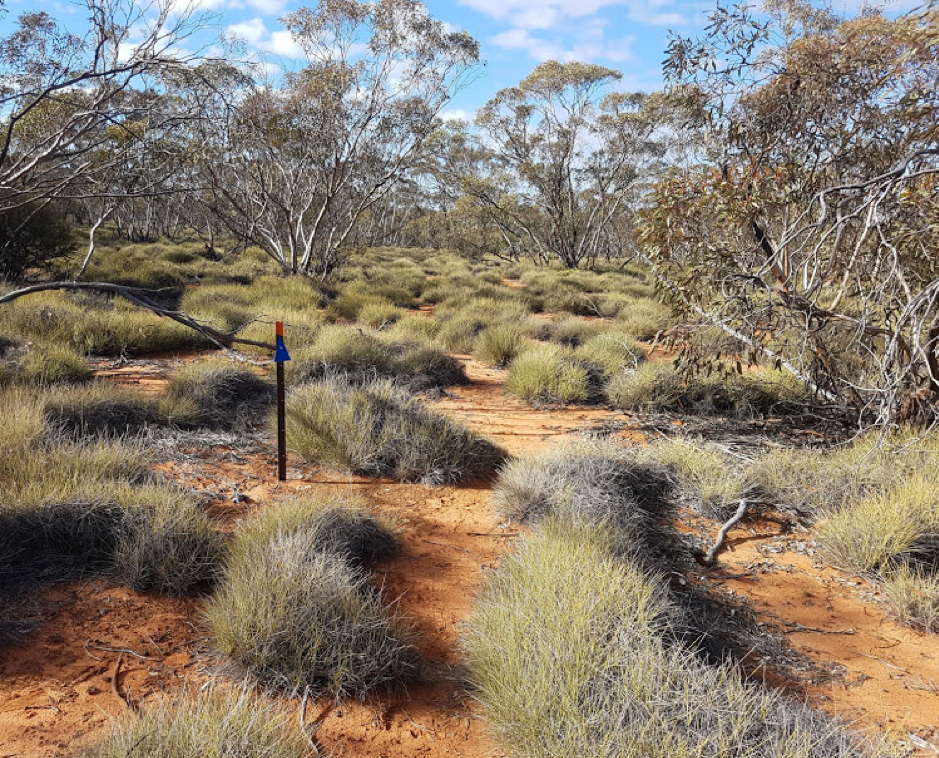 Gluepot Reserve (Photo: Chris Dunn)
B 3. Define strategies and actions of dynamic conservation, repair, innovation, adaptive transformation, maintenance, and long-term management
The Landcare approach supports farmers and pastoralists in developing robust and resilient businesses incorporating sustainable food and fibre production and natural resource conservation. It also supports engagement and participation of Aboriginal and Torres Strait Islander communities in Indigenous land management, people involved in sustainable resource management on public and private land and activities by young people through educational institutions.
The following case study is typical of many involving small holders along waterways. The project involved restoring degraded creek banks on a small holding following overgrazing and clearing along Bottle Creek, a tributary of the Clarence River in northern NSW. A small grant of $14,000 for materials and tube stock with planting by volunteer labour was used to restore the degraded or missing riparian vegetation The restoration process involved obtaining Landcare funding to fence out grazing stock; collecting and germinating native plant seed, planting tube stock into ground sprayed to eradicate grass and controlling grass as the plants grew. The result was mature trees in three years, reintroducing river side native vegetation which has increased habitat for birds and enabled connectivity to forested higher ridges.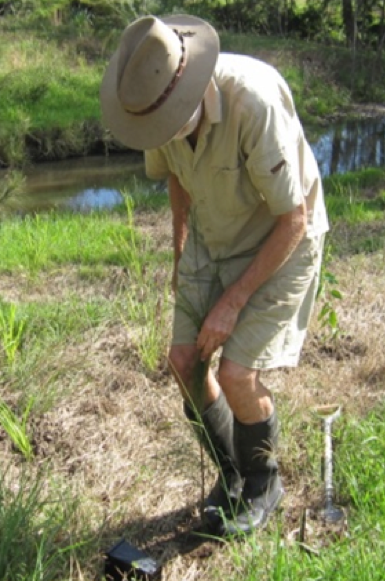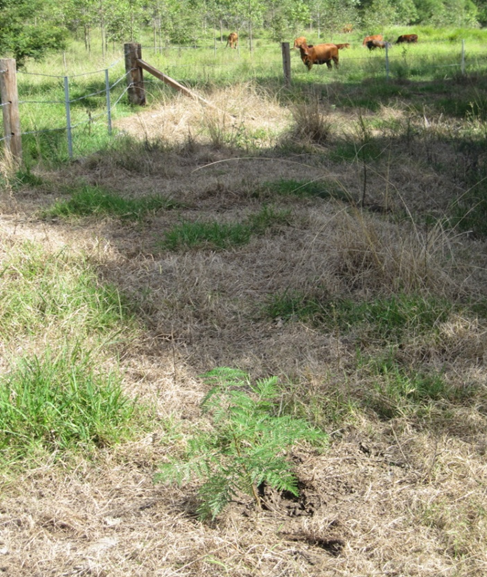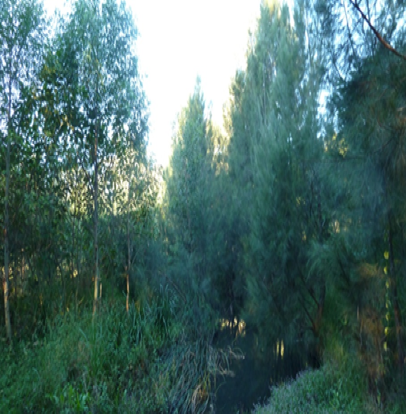 Bottle Creek restoration, 2015 [photos: J. Lennon]
Jane Lennon
Dec 2019